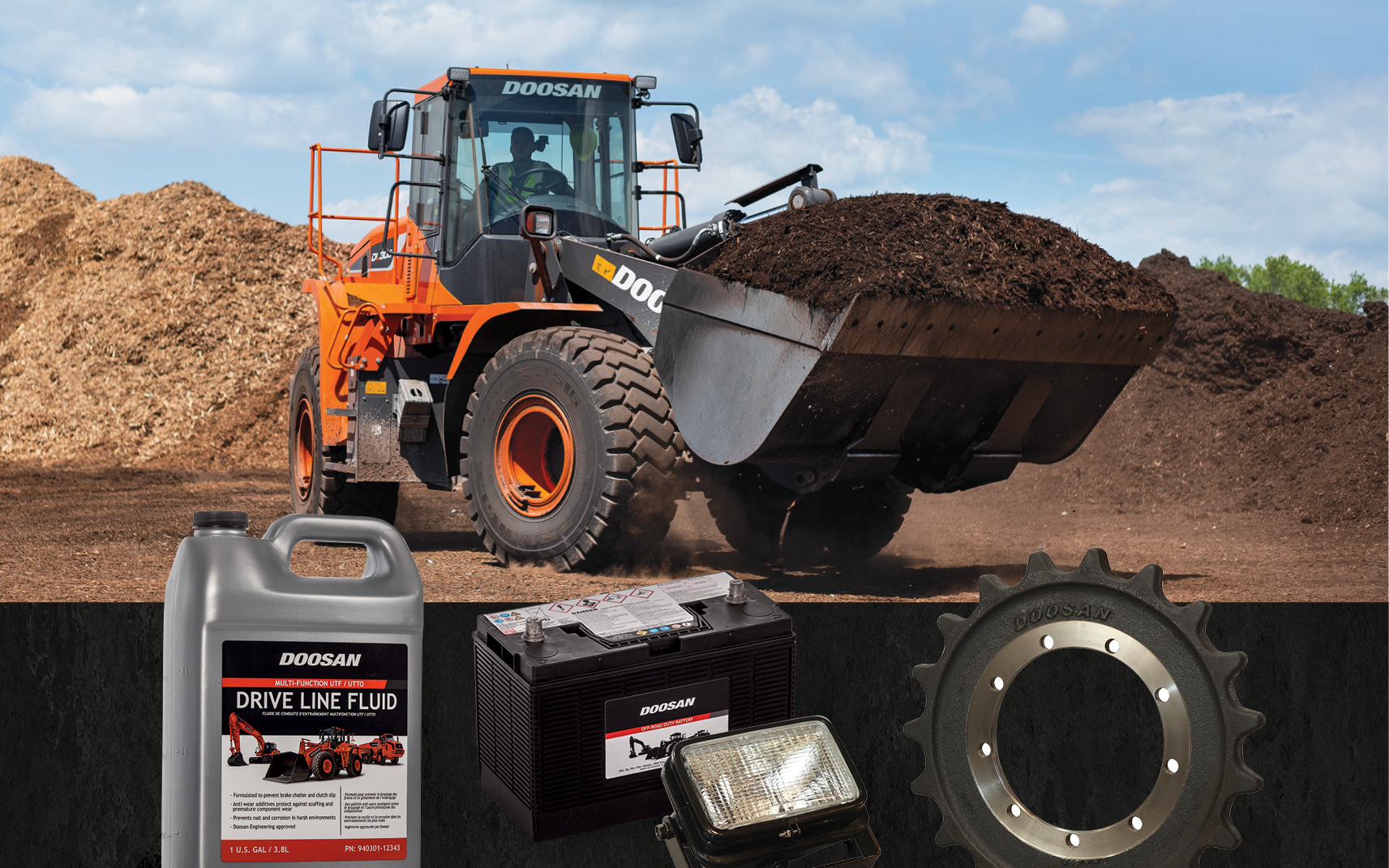 Construction supply chain issues continue to impact the inventory of construction equipment and availability of machine parts in 2022. With this in mind, it's more important than ever to have a parts strategy in place.
Having a parts stockpile or a way to access critical parts can help minimize construction equipment downtime. Here are tips on how to make sure you'll have the parts you need on hand, exactly when you need them.

Most Commonly Needed Parts
In order to combat outside factors affecting spare parts inventories, it's important to plan ahead to access a variety of frequently used machine parts.
For many machines, it's everyday filters and fluids that require the most regular upkeep. Other items that often need to be replaced due to damage are lights, mirrors, windows and hydraulic hoses.
Specific machine needs can include replacing teeth on buckets, cutting edges on dozer blades or shoes on excavators.
If possible, keep common parts on hand at your facility or with your crews in the field. Store items like filters and fluids inside a building or trailer at the jobsite. Remember: It's not a good idea to keep these items in the back of a pickup where they may be subject to adverse weather conditions.
Partner With Your Local Dealer
To ensure that the machine parts you commonly need are in stock, it's vital to communicate your needs with your dealer. Alongside your dealer's parts and service department, you can create and manage a parts supply plan for your fleet. The more machines you have, the more regular maintenance is needed. Similar parts, such as fluids, can be used in multiple machines. Communicating specific machine needs ahead of time with your dealer can make maintenance easier for both parties.
If there are issues or delays with the construction supply chain and your dealer doesn't have the items you need on hand, they can source them from a regional parts distribution facility to keep your machine up and running.
Potential questions to ask yourself as you plan your parts supply strategy include:
Is this a part I want to buy ahead of time and store myself? If so, where will I store it?
Do I have a service technician on staff that does all of my maintenance? Or do I contract out with my dealer or a third party for equipment service?
Genuine vs. Non-Branded Parts
There are a few differences between genuine and non-branded (generic) parts. One key difference: A genuine part is made for that specific machine and is expected to be compatible. The genuine part is also included in a machine warranty, making it easier to get repairs or replacements if necessary. A generic part is not under the same warranty.
An OEM, or original equipment manufacturer, part is quality tested as well. Through testing, it's known to be a proper fit and works with other components within the machine's systems. For example, a genuine oil filter meets the right flow and pressure specs for your machine. This oil filter won't damage the engine or the air filtration housing. The same can't be said for the generic part.
Telematics Monitoring
Telematics data can come in handy when planning ahead for parts, too. Service alerts from telematics systems allow you to track and stay on top of machine maintenance. If you know that you need to order a 1,000-hour service kit, you can plan ahead of time when to order it.
During a machine system failure, telematics data can prove helpful in identifying the root cause. This can go as far as communicating when a machine sensor is having issues. After your system communicates with your dealer, the dealer can dispatch a technician with the needed parts to get your machine running.
Keeping up with your machine parts inventory can be challenging. However, taking time to work with your local dealer and develop a parts plan can help avoid long wait times, extended machine downtime or lost revenue. If you're ready to develop your parts plan, contact your local Doosan dealer today.
To ensure that machine parts you commonly need are in stock, it's vital to communicate your needs with your dealer.