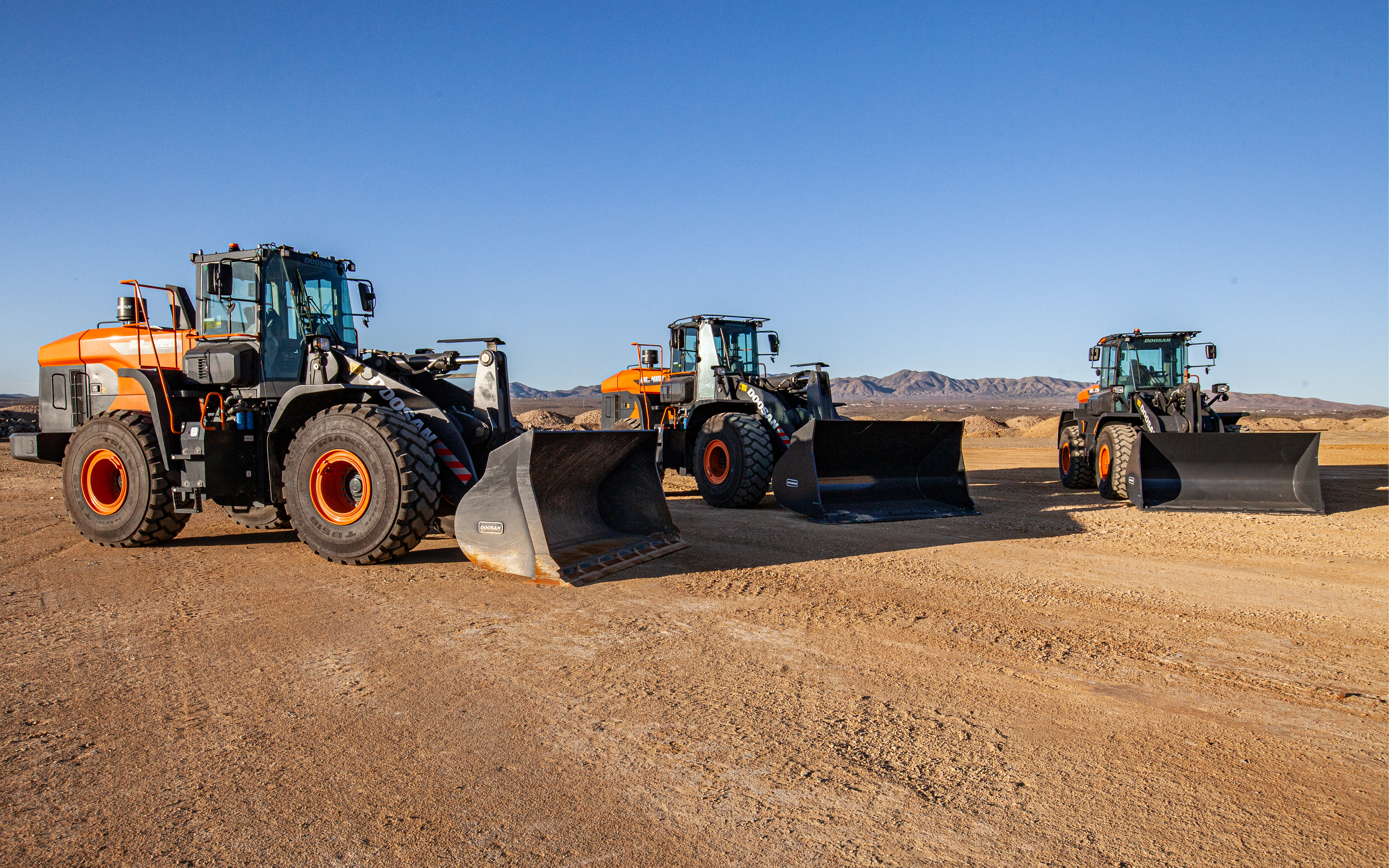 New Doosan® -7 Series wheel loaders feature an exciting and award-winning exterior design and improved visibility alongside market-leading performance features, smart technologies, improved fuel efficiency and enhanced durability; lowering cost of ownership and maximizing uptime.
In spring 2021, Doosan introduced seven wheel loaders as part of its next-generation -7 Series. Now the lineup is growing with three new models in the 200 size class. The new machines offer between 2.6 and 3.3 cubic yards of bucket capacity. See our full lineup below.
Load More. Carry More. Do More.
Doosan -7 Series wheel loaders have a more durable and rugged box frame. It is designed to endure harsh working environments. Added material strengthens each section for better balance and improved lifting capacity.
Speaking of capacity, larger axles on some models allow you to carry and lift larger loads, increasing your capabilities for faster, easier loading. You can finish your jobs in fewer passes with up to 7% larger standard buckets.
Updates to the Load Isolation System improve wheel loader stability when moving. This enhances operator comfort, reduces cycle times and can allow for higher travel speeds. When there's less material loss, you'll increase your productivity when loading and carrying material.
Built Tough To Carry the Load for Years
Doosan wheel loaders are engineered to stand up to punishing work on the toughest jobsites.
New stronger, larger axles offer better braking capacity to extend the life of brake discs.
The radiator fins are spaced 40% wider to quickly clear dirt, dust and other large debris. This reduces clogging while keeping the cooling system performing constantly to minimize machine downtime.
A hydraulically driven reversible fan is standard equipment. You can adjust the fan setting from the Doosan Smart Touch screen.
The Tech You Need To Work Smarter
Situation Awareness Technology (SAT) 2.0 boosts wheel loader performance and fuel efficiency. This monitors the machine's activity and adjusts the engine's output to match real-time requirements of the hydraulic system and drivetrain.
The Doosan Smart Guidance System helps you achieve the most fuel-efficient operation. The system analyzes operating habits and helps improve your productivity by providing tips during operation.
A new standard, easy-to-use Doosan Smart Touch screen displays all important settings and information. The new screen provides enhanced visibility with an integrated rearview camera monitor.
A new Doosan Smart Load weighing system is ideal for job applications that require accurate information about material weight in the bucket. All menus and settings are integrated in the Doosan Smart Touch screen.
New -7 Series wheel loaders continue offering DoosanCONNECT® Telematics. Easily monitor your Doosan equipment and manage maintenance to reduce operating costs.
The new DL200-7 wheel loader features a hydrostatic drive system for enhanced fuel economy, machine positional control and reduced wear on the brakes. The traction control management system allows operators to easily adjust traction force to match jobsite conditions. This helps reduce wheel slippage for a more efficient operation in digging, stockpiling and loading applications.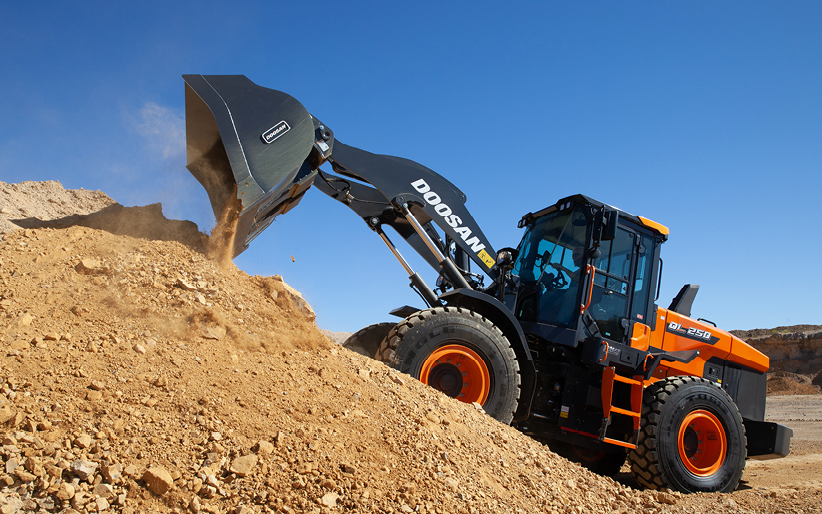 Redesigned Cab. Revitalized Productivity.
New -7 Series wheel loaders offer first-class comfort, optimized controls and increased visibility — for maximum productivity.
The cab interior is redesigned with a much roomier, quieter and more comfortable environment.
Your visibility from the cab is better because of an increase in total window glass area of 14%. A full glass door improves your visibility on the left side.
The improved heating and cooling system includes optimized airflow and circulation. There are also new air outlet locations to keep you comfortable when you're working long days in extreme weather.
New -7 Series wheel loaders continue to offer three power modes to help you manage your fuel efficiency. An auto-idle feature is another valuable fuel-saving benefit that comes standard.
Learn more about our new -7 Series wheel loaders.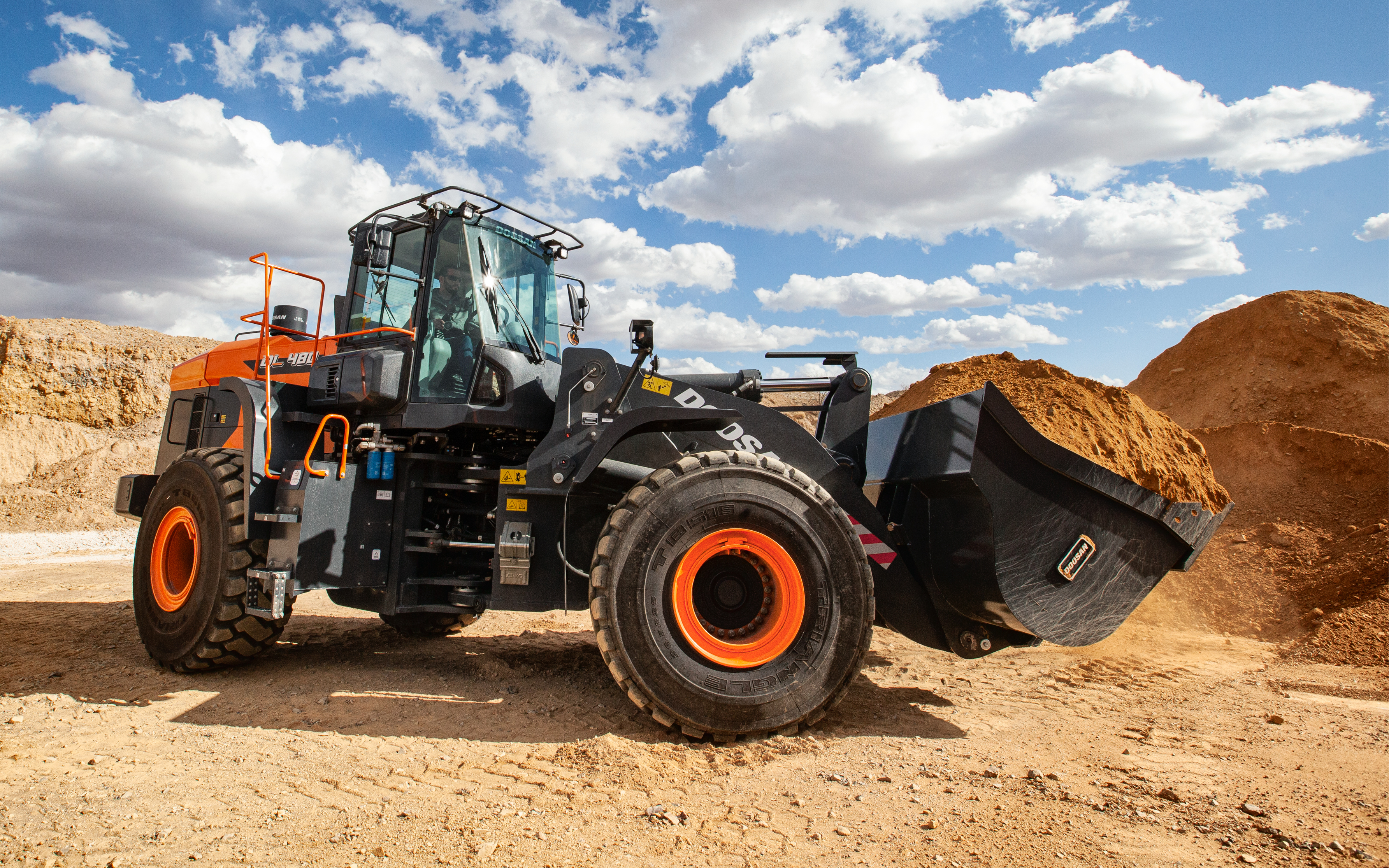 New -7 Series wheel loaders offer first-class comfort, optimized controls and increased visibility — for maximum productivity.