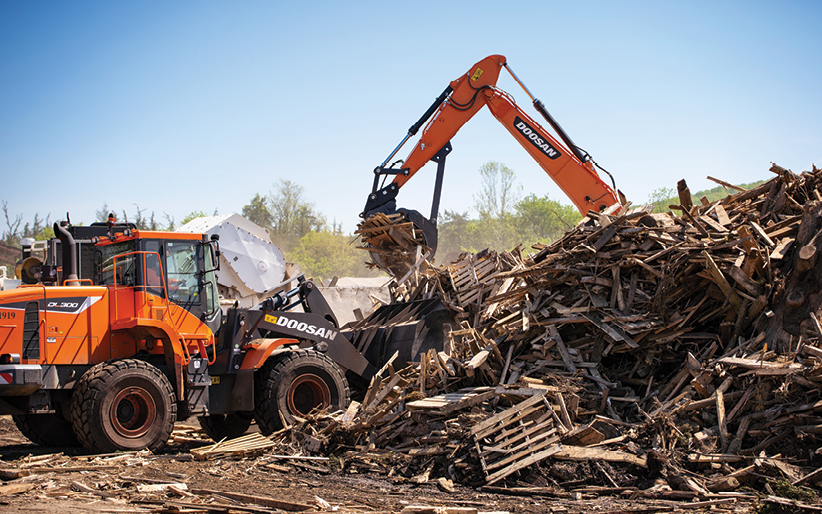 It's surprising how much material is recycled every day in the United States. According to a report provided by the Environmental Protection Agency (EPA) in 2018, 32% of municipal solid waste (trash) was recycled or composted.
Companies in solid waste management depend on recycling equipment to lift, carry and manage a variety of materials. These include construction and demolition debris, such as wood, wires and metal. Recyclers divert the solid waste from landfills and prepare it for a second life.
New machine technology makes today's recycling facilities and scrap yards more productive than ever. The efficiencies include the amount of material the machines process daily and reduced fuel consumption.
Here are real-world examples of how companies put construction equipment to work in recycling applications.
Doosan Material Handling Solutions
One of the most common machines used today for recycling is a material handler. Manufacturers design these machines specifically to meet the needs of the recycling industry. You may immediately think of the popular claw game at an arcade when you see the machine's droop nose arm and grapple attachment lifting objects.
One of the many benefits of material handlers is the raised cab, where the operator has an enhanced view of the work area. Perched above the site, operators can easily see the area around them as they sort and lift metal objects with a grapple or a magnet. A raised cab, which can be fixed or moved up and down hydraulically, also comes in handy when operators carefully position materials inside a container or truck for shipping.
Read how Apex Recycling Services grew its recycling business with a Doosan DX225MH-5 material handler and attachments.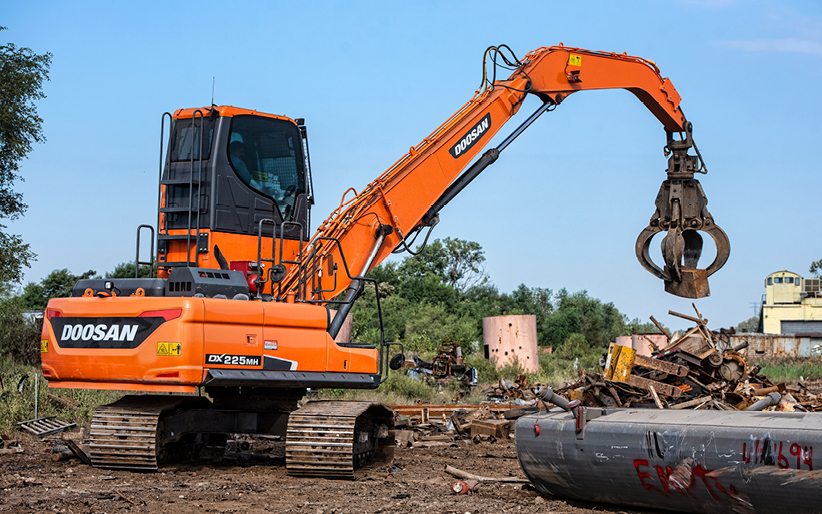 Industrial Recycling Equipment
Jon Wybar saw an opportunity to start a business taking construction and demolition debris and recycling it rather than shipping it to a landfill. Jon's company, Revolution Recovery, specializes in using recycling equipment, including wheel loaders and excavators, at facilities in the Northeast.
A majority of construction and demolition solid waste goes to landfills, Jon notes. His firm diverts the waste by handling up to 1,000 tons of material daily. Mid-size wheel loaders with buckets and grapples efficiently push and pile material, and excavators paired with grapples help load material onto conveyor belts for sorting and picking.
Wheel loaders and excavators are designed for construction tasks, but companies like Revolution Recovery have learned they're just as good at material handling as they are at earthmoving. And today's recycling equipment is more fuel-efficient than past iterations, meaning reduced monthly fuel bills if you operate today's newest machines. Features like adjustable power modes enable operators to reduce fuel consumption when maximum power is not required.
"We want to lead in recycling," Jon says. "We see major problems for the planet, and we want to be on the cutting edge of solving this problem."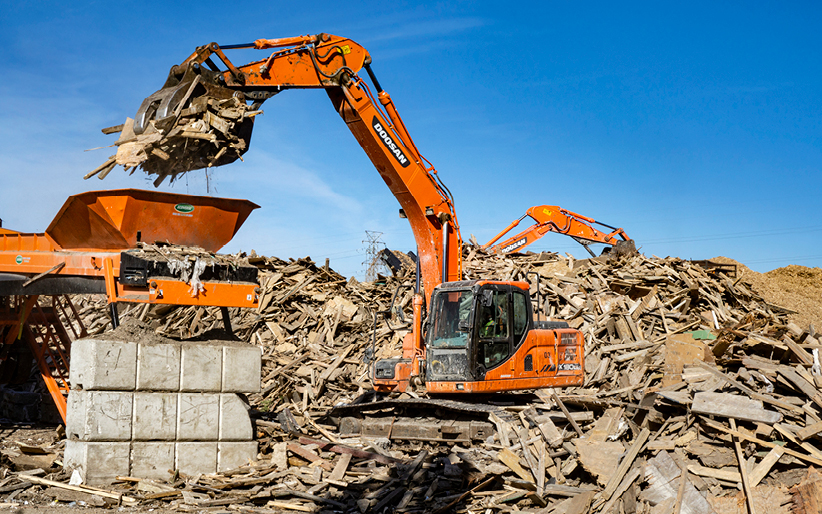 Glass Processing Equipment
A majority of the glass we throw away every day eventually ends up in landfills. A South Carolina company hopes to change that trend by converting post-consumer glass into a filtration mechanism. GlassWRX operates wheel loaders and manages the inflow of raw material (glass) before it is ready for the transformation. Recycling equipment is instrumental in the process.
During an interview with employees in 2021, GlassWRX said the hope is to expand the operation with more facilities, like one in Beaufort, South Carolina. The company hopes to build 38 advanced manufacturing plants by 2027, according to its website. The goal is to recycle more glass and keep it out of landfills.
One way the company keeps its machines running is with the help of a telematics system. Equipment working in the recycling industry piles up hundreds of hours of operation. Some machines may work thousands of hours annually, and owners expect the equipment to work with little or no downtime. Telematics makes it possible to ensure that the machines are working as they should be. If a machine has an issue, a service technician can identify it through telematics and order the necessary parts for minimal downtime.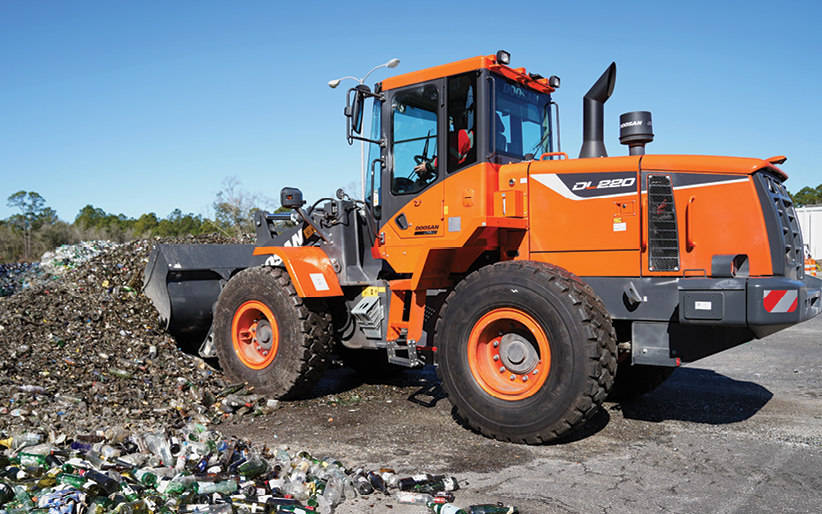 Waste Management Equipment
When most people think about recycling, they think of everyday household items like paper and plastic. But other recyclable materials include household metal appliances, such as washing machines and dishwashers, as well as organic waste. For example, leaf bags that are set by the curb every fall or limbs from a large tree cut down on a property. Where does it go? One place is BS Ranch and Farm in Lakeland, Florida.
Bill and Brandy Stanton own and operate a large, successful organic recycling business in the Southeast. Beyond collecting landscaping and green materials, the company also accepts food waste and septics. When unpurchased food expires — such as produce at your local grocery store — there are two options. The store employees can put the expired produce in the garbage headed for the landfill, or they can send it to BS Ranch and Farm, where it can be processed naturally and turned into compost and topsoil.
BS Ranch requires a fleet of recycling equipment to keep the operation running smoothly. The company's construction equipment includes a variety of wheel loaders, excavators, articulated dump trucks and material handlers. Working together, employees take the various types of organic solid waste and process them on-site to produce a topsoil product.
Check out the many Doosan machines available to serve the recycling industry. Visit our equipment page for more information about Doosan excavators, wheel loaders, material handlers and more.
We want to lead in recycling. We see major problems for the planet, and we want to be on the cutting edge of solving this problem.