Business: Honc Destruction
In business since: 2002
Location: Fort Myers, Florida
Doosan machines: DX140LC-3, DX225LC-3 and DX300LC-3 crawler excavators; DL250-3 wheel loader
Doosan dealer: Synergy Equipment / Bobcat of Fort Myers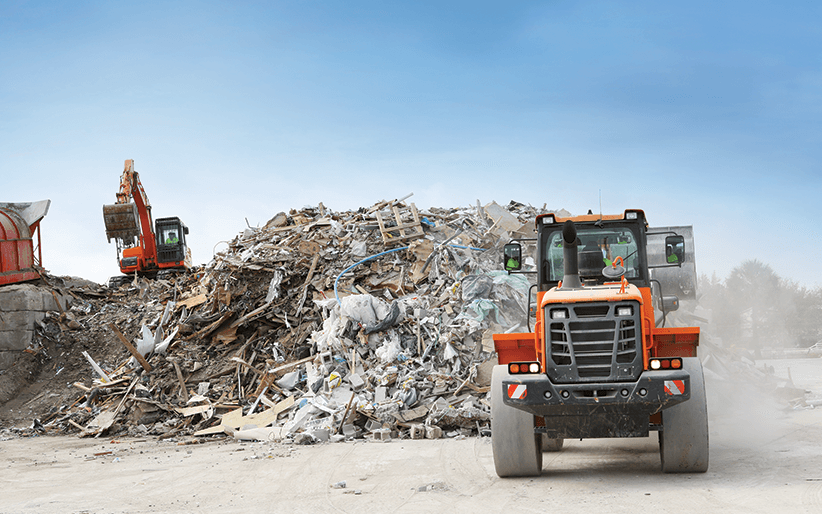 As the residential and commercial building boom is picking up speed across Southwest Florida, the area's largest demolition company is playing a prominent role in driving the new economic engine.
"Since we are the front of the train on any redevelopment project, everyone wants us to get in and get out so they can get started rebuilding," says David Mulicka, president of Honc Destruction, experts in commercial and residential demolition. "Working quickly is one of our selling points. We can typically save the customer days or weeks on their schedule because we have the resources and equipment to complete a job more efficiently and safely than others in our trade."
Five years ago, when the Florida economy was rebounding, Honc Destruction had to rent equipment to keep up with the workload.
"We had no specific plan on renting a Doosan unit the first time that we tried one, but when I saw what that machine could do compared to other equipment we were using, I knew the next excavator I needed to purchase was a Doosan machine," he says. "It turned out to be a very wise choice."
The company purchased a pair of Doosan excavators in 2014, a Doosan DX300LC-3 crawler excavator and a slightly smaller DX225LC-3 crawler excavator, both equipped with severe-duty buckets, optional two-way auxiliary hydraulics and clamps. "They quickly became the operators' favorites in the fleet, thanks to a winning combination of power, speed, ease of maintenance and comfort," Mulicka says.
"With almost no waterfront property available, more people are buying existing homes, taking them down and replacing them with new structures," he says. "They want the lot more than they want the house. As a result, on average, we are demolishing one house every day. Some of the homes we are tearing down in the Naples area range from 12,000 to 14,000 square feet, and are being replaced by homes that are even bigger and nicer."
In 2002, Mulicka encountered a similar scenario that prompted him to start his demolition firm. At that time, he was part of the management team at Honc Marine Contracting, the premier builder of seawalls for thousands of waterfront properties, especially in the Cape Coral and Fort Myers, Florida, areas. Headquartered in Cape Coral, Florida, the marine company has been around for more than five decades, and has completed more than 13,000 seawall projects.
"Seawalls are faster and easier to replace on vacant lots, and because many owners wanted new homes anyway, we decided to add demolition services in order to enhance our seawall business," Mulicka says. "With the ability to use the same operators and equipment already needed to build a seawall at the same time, we could offer demolition services at a price and schedule that nobody else could match."
The right size equipment makes a big difference
These days a fleet of machines, including a pair of Doosan crawler excavators, along with a Bobcat® compact track loader and compact excavator, are helping Mulicka and his crews keep up with the demanding demolition schedule.
Bringing the most brute force to the jobsite is the DX300LC-3 crawler excavator. Operators like the combination of power, speed, ease of maintenance and comfort that the machine delivers.
"When I first compared the DX300LC-3 with a similar model of another brand that I already owned, my other excavator was not even close in power and speed," Mulicka says. "The brute force is superior. In fact, when I had three of my original machines working together, the DX300LC-3 outperformed the other two combined."
Not only can the Doosan excavator handle the daily demolition business, but it also makes sound financial sense, according to Mulicka.
"Both the DX300LC-3 and DX225LC-3 use about 15 to 20 percent less fuel than a similar machine of another brand," he says. "That makes a significant impact on operating costs. Plus, the financing terms offered by Doosan are very easy to work with. Dollar for dollar, Doosan excavators are probably the best machines for the price that I have ever seen."
The company was so impressed with the performance and reliability of its Doosan crawler excavators that it added a DX140LC-3 excavator with rubber tracks and hydraulic clamp to its fleet. "Our relationship with our sales agent, Mike Clementi, and the rest of the sales, rental and service team at Synergy Equipment, make Doosan construction equipment and Bobcat compact equipment the right machines for our business."
In addition to the heavy equipment, a pair of Bobcat® machines handles the tighter areas — a compact track loader with a bucket, industrial grapple and root grapple collect debris, while a sweeper attachment helps clean up jobsites. A compact excavator and hydraulic breaker attachment are used for selective demolition inside buildings.
This combination of heavy and compact equipment fits the firm's strategy of working quickly. For example, the company took a 93,000-square-foot Charlotte County school and turned it into a vacant lot in less than three weeks. That's typical of the fast service that Honc Destruction clients want these days.
Demo work uncovers a new revenue source
To deliver even faster demolition services that today's clients want, Honc Destruction recently purchased a 6-acre recycling facility for construction debris.
"Previously we had to haul what we tore down to 10 or 15 different places within our market areas in order to try to mitigate the hauling and disposal fees," Mulicka says. "Logistically it was difficult at times."
At the new centrally located facility, he says the plan is to recycle more than 80 percent of the materials the demolition company previously paid to get rid of. Recycling construction debris has received more attention in recent years as companies are adopting sustainability efforts and sending less debris to sanitary landfills. Several major commodity buyers are customers of Honc Recycling, an increased source of income for the business that saves their clients' money on their projects.
"Having our own recycling facility is a significant strategic advantage that allows us to be much faster and more productive because we no longer have to slow down and process and sort debris at the demolition site," he says. "We can load out and haul it away immediately and get the property ready for whatever is going to take place next. All the sorting is now done at our recycling facility. This vertical integration and delivery of services has dramatically changed our demolition enterprise."
Another benefit, according to Mulicka, is having better control of the process. "With our own people working in both demolition and recycling, we set the schedule, use our own trucks to haul debris and sort material in a very organized manner. Overall, it has made it much easier for our team to manage the logistics of our business."
Demolition is all about safely getting rid of what you are supposed to and protecting everything else, says Mulicka. "Having the right plan and the right people on the crews makes a big difference, and so does having the right equipment."