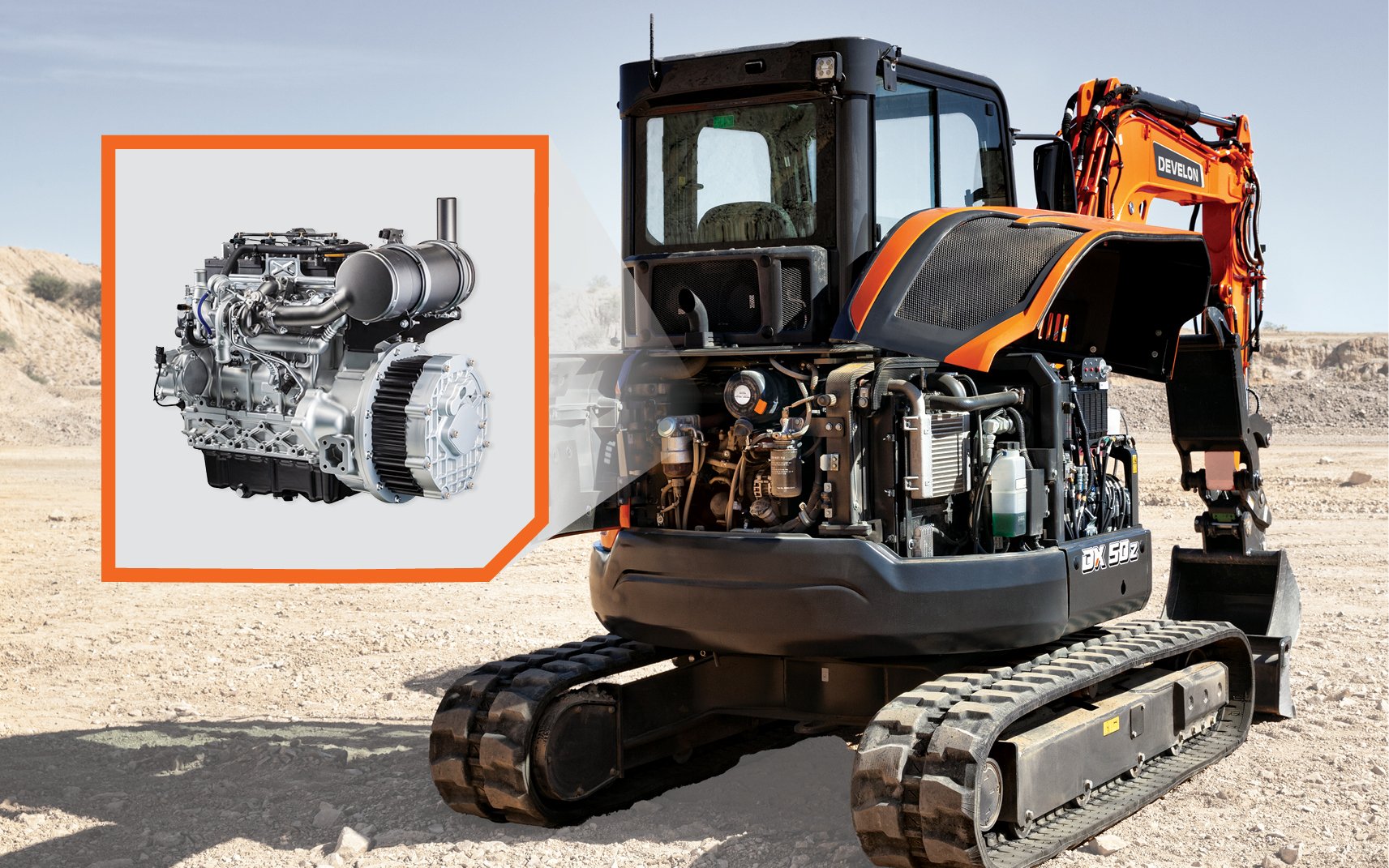 Hybrid engine technology and electric power were popular topics at CONEXPO-CON/AGG 2023 in March. Director of Product Management Thomas Lee provides insights into the latest hybrid engine technologies in development for DEVELON construction equipment.
Hybrid Powertrain Q&A With Thomas Lee
Q: How long has DEVELON been working on the hybrid engine project?
A: The DEVELON engine business group has been working on hybrids for more than five years. The business group has previously supplied hybrid engines to other industries, including vehicles, trucks, buses, and marine applications.
Q: Why implement this technology for construction equipment?
A: We have a significant interest in hybrid technology for our construction equipment with an in-house powertrain. For example, customers requested our mini excavators with a hybrid engine designed and built by our engineers. We already had the technology for other industries, and now we're applying it to our construction equipment.
Q: How many hybrid engines will DEVELON offer for construction equipment?
A: There are four hybrid engines on the way for our construction equipment. These four will be in the 2.4-liter and 3.5-liter size classes for our mini excavators, and we're currently looking at higher-capacity engines for larger construction equipment like crawler excavators and wheel loaders.
Q: Can you describe the differences between the mild-hybrid and the plug-in hybrid offerings?
A: The differences are the battery and the electric motor size. On a machine built with a mild-hybrid engine, the operator runs the engine continuously and can alternate between power sources. The engine generates power to charge the battery, and the electric power supporting the engine is somewhat smaller. The mild-hybrid engine energy coming from the motor is approximately 20 kilowatts of power. The plug-in full-hybrid setup has a motor producing approximately 55 kilowatts of power.
Q: What are the components of the mild-hybrid powertrain?
A: Our mild-hybrid powertrain features a 48-volt electric motor and lithium-ion battery. These components are added to the existing engine in our construction equipment.
Q: What are the benefits of the mild-hybrid powertrain?
A: The benefits of the mild-hybrid powertrain include reduced carbon dioxide emissions and improved fuel economy. We can reduce low-efficiency components and use regenerative braking, a method of braking that stores energy otherwise wasted and uses it to charge a battery. The mild-hybrid powertrain is a bridge between the internal combustion engine and the plug-in hybrid. It's giving our construction equipment customers a better total cost of ownership by using less fuel.
Q: What are the features of the plug-in, high-voltage full-hybrid powertrain?
A: Our plug-in full-hybrid is a more efficient and powerful multi-purpose powertrain system. Operators can choose their preferred mode of operation based on the application. This includes pure electric mode, hybrid mode, or internal combustion engine-only mode.
For example, if our customers need to work indoors or in an environment with flammable materials, they can opt to use just an electric motor. But if they need more power and more versatility, and they are working outdoors, they can use the combined power. Customers will have more flexibility in operating their equipment.
Q: Are there any additional benefits of a hybrid engine?
A: One of the benefits of a mild-hybrid or plug-in hybrid is customers can use fewer engine after treatment systems. Our customers using the D24 engine don't need a selective catalyst reduction (SCR) system. No diesel exhaust fluid (DEF), either. For our 1-liter and 1.8-liter engines, the customers don't need any after treatment system. That's another big saving on the total cost of ownership.
Another benefit of the hybrid system is that customers will get a more dynamic power characteristic. The response time of an electric motor is far faster than that of an internal combustion engine. When there's an rpm drop and customers need to recover the power to do some work, the recovery time is much shorter compared to that of a traditional internal combustion engine.
Look for more information coming on our website about our hybrid engine technologies and when they may be available at your local dealership.
The benefits of the mild-hybrid powertrain include reduced carbon dioxide emissions and improved fuel economy."