Compact track loaders are among the most popular compact equipment available today. Estimates are that manufacturers sell as many as 90,000 compact track loaders annually in North America.
It only makes sense that we recently announced plans to add the product category in 2024. This will allow our dealers to provide our customers with the full line of equipment their work demands.
During CONEXPO-CON/AGG in March, equipment enthusiasts got a first-hand look at a prototype of the first DEVELON compact track loader. Here's what to know about this much-anticipated machine in development.
We recently expanded our product offerings to include a dozer and a broader line of mini excavators. As we continue to grow our construction equipment lineup, a compact track loader will become a key addition in 2024.
"A compact track loader is a natural complement to our mini excavators for many contractors who do excavating and grading tasks in construction," says Thomas Lee, director of product management. "We believe our dealers and our customers will embrace this new product."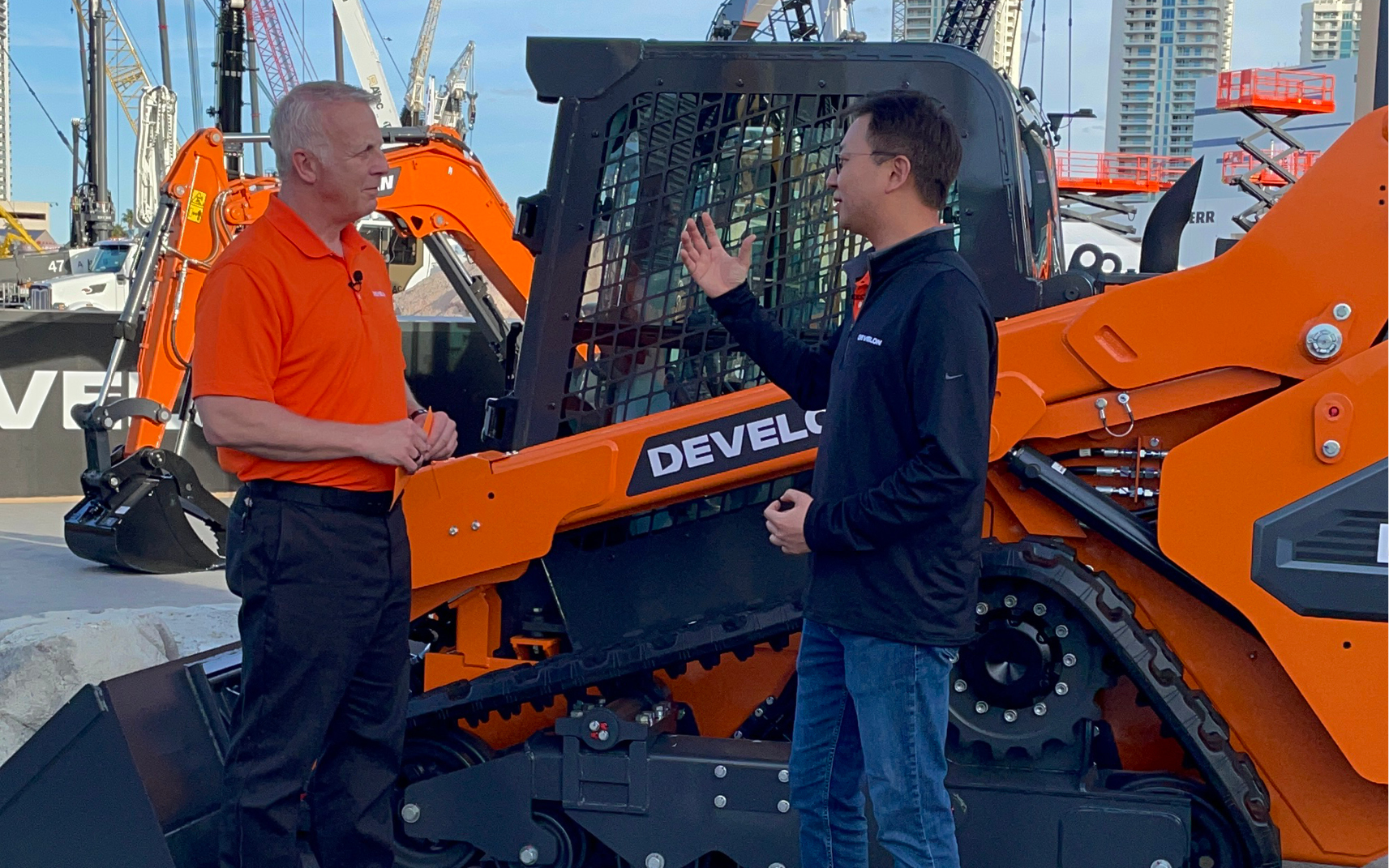 A Track Loader With Power and Performance
DEVELON compact track loaders will offer exceptional power for everyday construction tasks. The first model is slated to be on the large-frame end of the compact track loader spectrum. The machine will feature a 116-horsepower diesel engine for plenty of pushing and digging performance.
And speaking of performance, customers can operate attachments requiring high-flow auxiliary hydraulics, thanks to the compact track loader's optional capacity of 40 gallons per minute.
"The high-flow option pairs well with the high horsepower and will make it possible for operators to use attachments such as forestry cutters and brush mowers for site preparation and land-clearing applications," says Lee. "The compact track loader's door is constructed of polycarbonate glass for added operator safety."
Electrohydraulic joystick controls are standard for DEVELON compact track loaders. Lee says this is now the preferred style, particularly among younger operators. From inside the cab, operators can change the joystick method of operation with a pattern change valve for simple and easy control of preferences.
A standard torsion suspension system will reduce vibration and provide additional stability when lifting and carrying loads. This type of suspension helps operators keep loads level when traveling across uneven terrain. This can minimize material spillage from a bucket and reduce cleanup later on. The system also provides a smooth and comfortable ride, which can be helpful for long days in the seat.
Convenient Attachment Versatility
A hallmark of compact track loaders is their ability to perform multiple tasks using a variety of attachments. You can expect the same from DEVELON compact track loaders.
Operators can use common attachments like buckets and pallet forks to perform earthmoving and lifting and carrying tasks. In addition, operators will be able to change non-hydraulic attachments without leaving the cab by activating the machine's quick coupler system.
The compact track loader's standard hydraulic flow means operators can utilize any number of hydraulically powered attachments. For example, an auger to efficiently dig holes, grapples for grabbing and carrying objects or a hydraulic breaker to demolish concrete or asphalt. Good visibility to the attachment from the operator's cab ensures that the work can be done safely and efficiently.
A rated operating capacity of 3,657 pounds will enable operators to easily lift materials like dirt and rocks and load into trucks. The vertical-lift-path design of the compact track loader makes it easier for operators to unload dirt into the middle of a truck. An overhead window offers good visibility to the bucket as the operator dumps the dirt into the truck bed.
Enhanced Visibility and Safety
Compact machines often work in tight or confined spaces on a jobsite. In those situations, it's imperative that operators have visibility around the machine, particularly to the attachment and to the sides of the loader.
"Operators have good visibility to the front and the sides of our new compact track loader," says Lee. "This is due to the machine's design and the large cab windows."
Visibility and safety features available for larger construction equipment are now being offered for compact machines. A standard rearview camera gives operators better visibility to their surroundings. The rearview camera visual is displayed on the LCD screen in the loader's cab.
An optional around view monitor (AVM) camera system and object detection system are scheduled to be available when the machine goes into production in 2024. The object detection system will alert the compact track loader operator if there is a person or an object near the machine. This new safety feature can help prevent accidents.
Low Ground Pressure
Another popular feature of compact track loaders is their minimal ground disturbance. Depending on the width of the machine's tracks, operators can expect as low as 5.7 psi of ground pressure. This is particularly helpful when operators are traveling across established surfaces like lawns. A wide track option (17.7 inches) is available for owners who prefer reduced ground pressure.
Two track patterns will be offered for the compact track loader: block and multi-bar. Both track patterns provide good traction and a smooth ride. The block pattern is intended for operation on everyday construction jobsites. The multi-bar pattern is ideal for working in a variety of landscapes: established lawns, dirt, mud and even snow.
Travel speeds will include a low speed of 5.3 miles per hour and a high speed of 8.7 miles per hour. When working on large jobsites, operators can get from point A to point B in a relatively short amount of time.
Simple Serviceability
One feature of the compact track loader that was popular at CONEXPO was the serviceability of the machine, particularly access to the components behind the large, swing-open rear tailgate.
"One of the features that we love about this machine is serviceability and getting in the engine bay," says Jack Henderson-Adams, the owner of Western Earthworks.
"If we're running forestry mowers, we are constantly maintaining [the machine] and getting in the engine compartment. Maintaining the area is critical for fire hazards. I can get in there all day long. I can take a nap in there if I want."
Stay tuned for more information about DEVELON compact track loaders. The new machines are scheduled to arrive at dealerships in 2024. In the meantime, you can download the compact track loader spec sheet, and you can watch Thomas Lee, director of product management at DEVELON, discuss the new machine in this video.
A compact track loader is a natural complement to our mini excavators for many contractors who do excavating and grading tasks in construction."