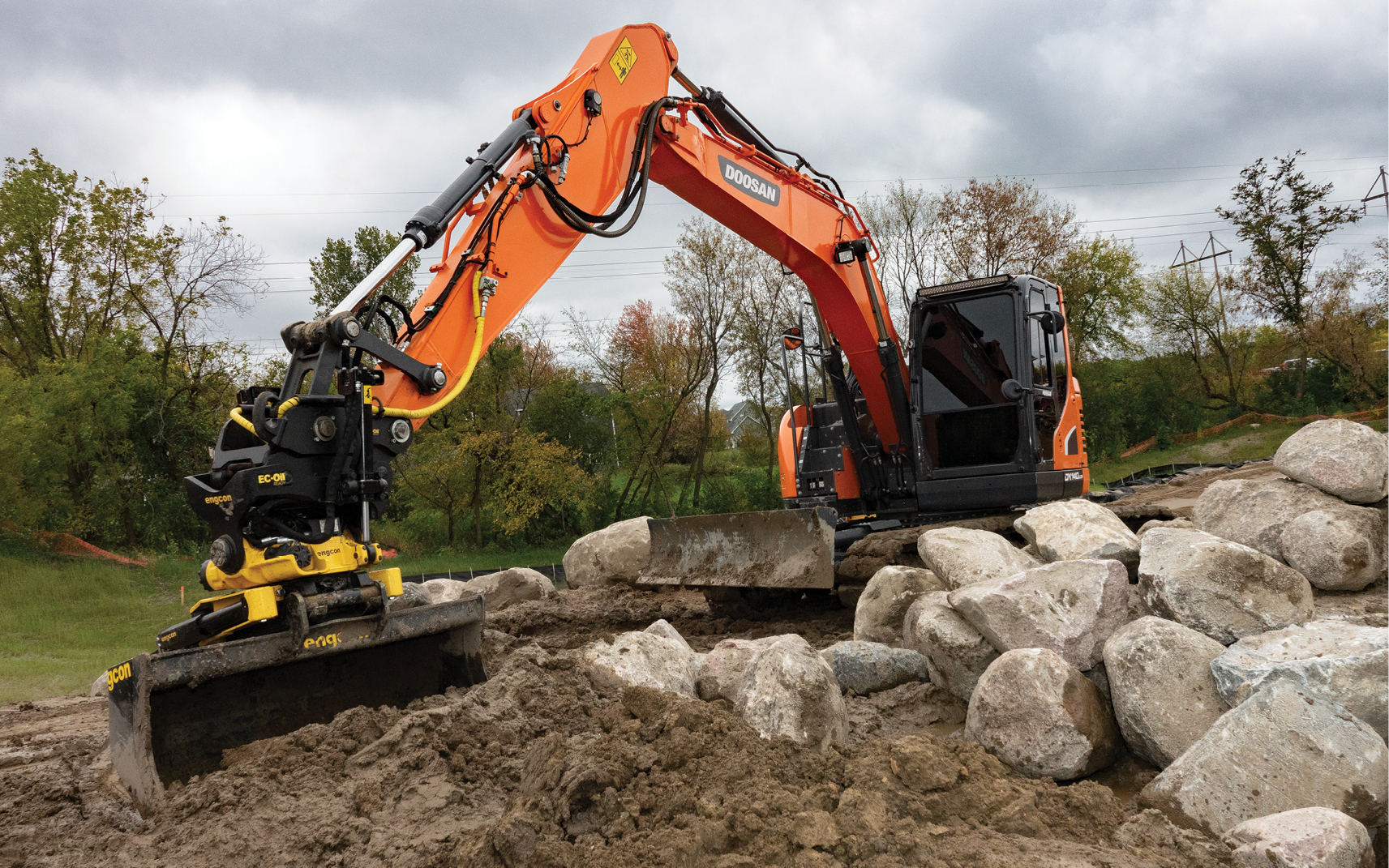 Do you own an excavator? If so, you may want to consider adding a tiltrotator. This accessory can increase your machine's flexibility and improve your overall productivity.
A tiltrotator is an accessory that works with attachments to increase an excavator's versatility. While readily available in Europe for more than 25 years, they're just now becoming more prevalent in North America.
Which Excavators Can Use a Tiltrotator?
Tiltrotators for excavators are generally used on machines weighing between 2 and 33 metric tons. That includes mini excavators and many small to midsize crawler and wheel excavators. Tiltrotators are mounted to the end of the excavator arm or underneath a hydraulic quick coupler.
Prior to purchasing a tiltrotator, it's recommended that excavator owners contact their local dealer to make sure their machine has the required auxiliary hydraulic flow to meet the tiltrotator needs.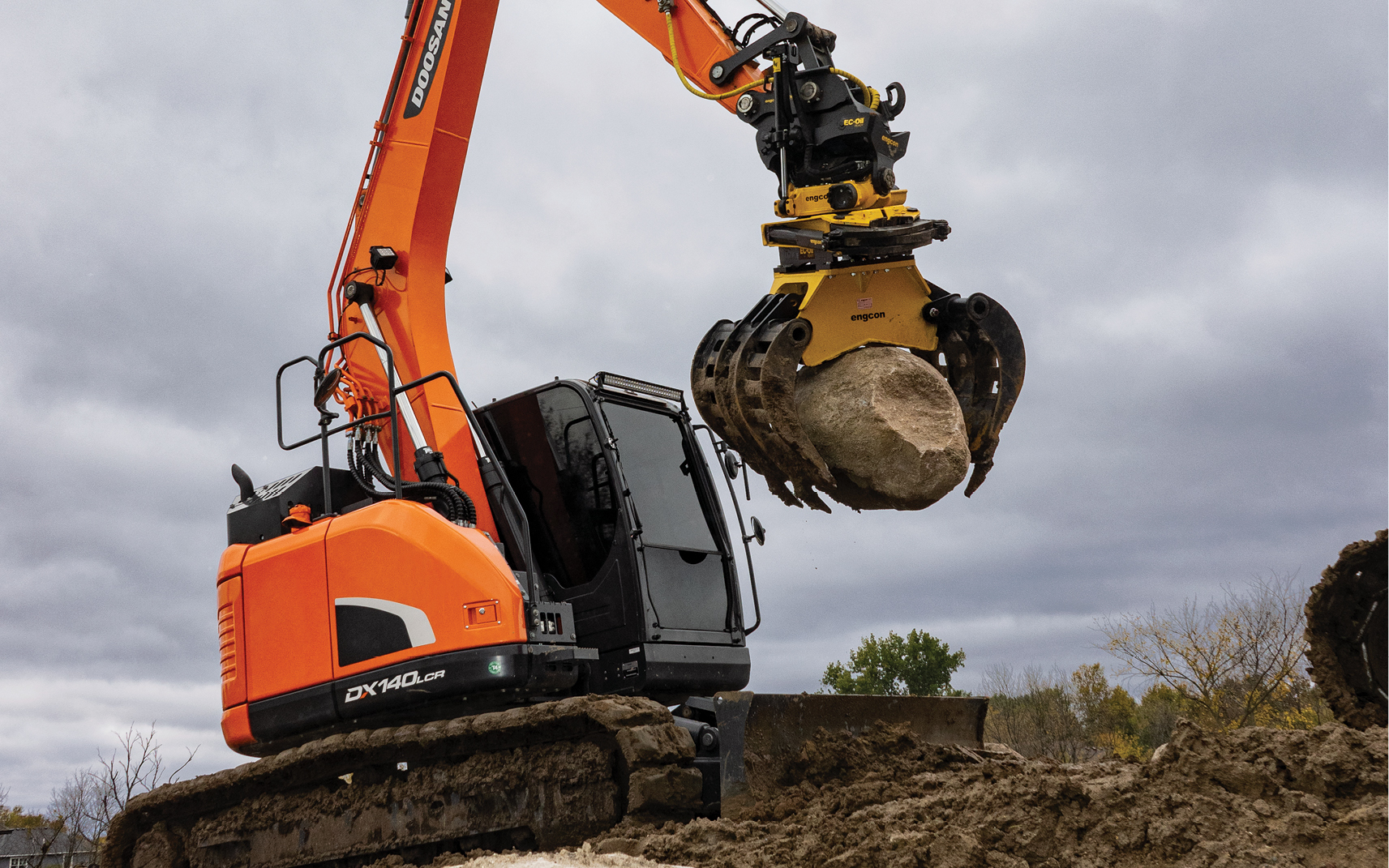 How Does a Tiltrotator Work?
Once installed, the tiltrotator can be paired with any number of attachments. Some of the most common attachments include buckets, grapples, plate compactors and rippers.
The excavator operator can use the tiltrotator to rotate the attachments 360 degrees. The operator can also tilt the accessory plus or minus 45 degrees. These movements allow more flexibility and greater precision when performing certain digging or grading tasks.
It's important to note that a secondary monitor and different joysticks may be required to use a tiltrotator. The joysticks provide additional functions and buttons needed for proper operation. Contact your local excavator dealer to discuss what your machine may need to be compatible with a tiltrotator.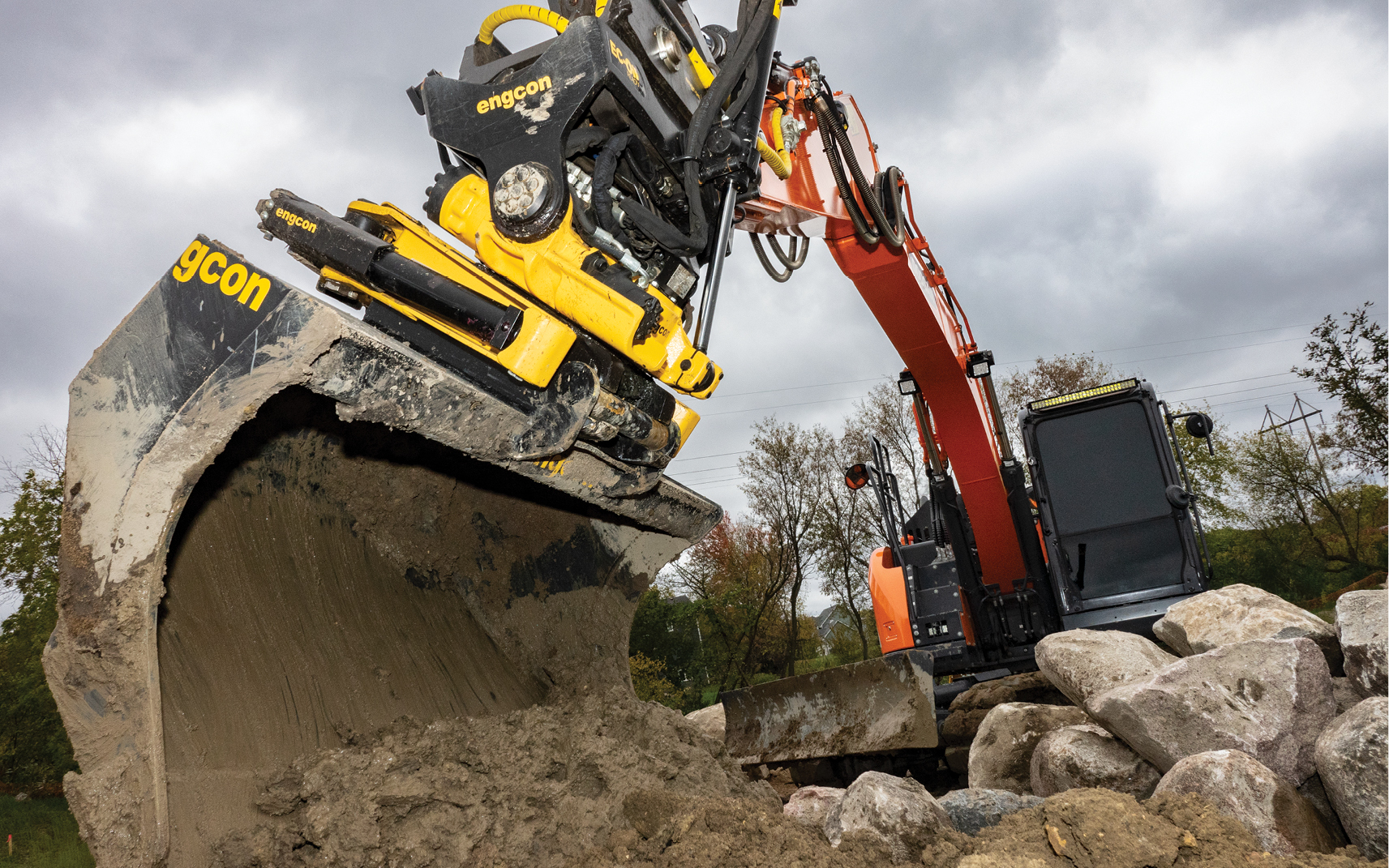 Common Tiltrotator Applications
Tiltrotators paired with excavator attachments can perform a variety of tasks. One of the most common applications is underground work where the operator may be digging next to existing pipes. The operator can rotate the excavator bucket and work more precisely near the pipes without disturbing them.
Another area where tiltrotators are growing in popularity is landscaping work, specifically building rock walls. Doosan excavator customer Matt Quinnell of Advanced Wall Structures is familiar with tiltrotators. Matt's company installs tiltrotators on some of his Doosan excavators for his boulder retaining wall business. He combines the tiltrotator with a grapple to lift, rotate and place boulders to build walls.
Tiltrotators are also beneficial in grading applications. The excavator operator can use a grading bucket with a tiltrotator and angle the bucket for a more precise final grade on a slope.
Additional Considerations for Using Tiltrotators
For even further precision, excavator operators can pair the tiltrotator and a 2D or 3D grade control system.
"If you're working with complex 3D grade control systems, you can know where the tip of that bucket is within a level of accuracy," says Aaron Kleingartner, product and dealer marketing manager. "If you're working with a very complex 3D model, you can use the tiltrotator and additional components to be very precise with the placement of your bucket or other attachments on the end of the arm. This allows the excavator operator to be more efficient."
One thing to keep in mind is the additional weight of the tiltrotator on the end of the arm. This can be especially important to consider if you own a mini excavator. Depending on your machine and how it is configured, you may need to visit with your dealer about adding more counterweight to help balance the excavator. Your sales specialist should be able to help you determine what you may need to ensure your machine can be properly operated.
Learn more about which excavator may be best suited for your application and a tiltrotator accessory.
If you're working with a very complex 3D model, you can use the tiltrotator and additional components to be very precise with the placement of your bucket or other attachments on the end of the arm.