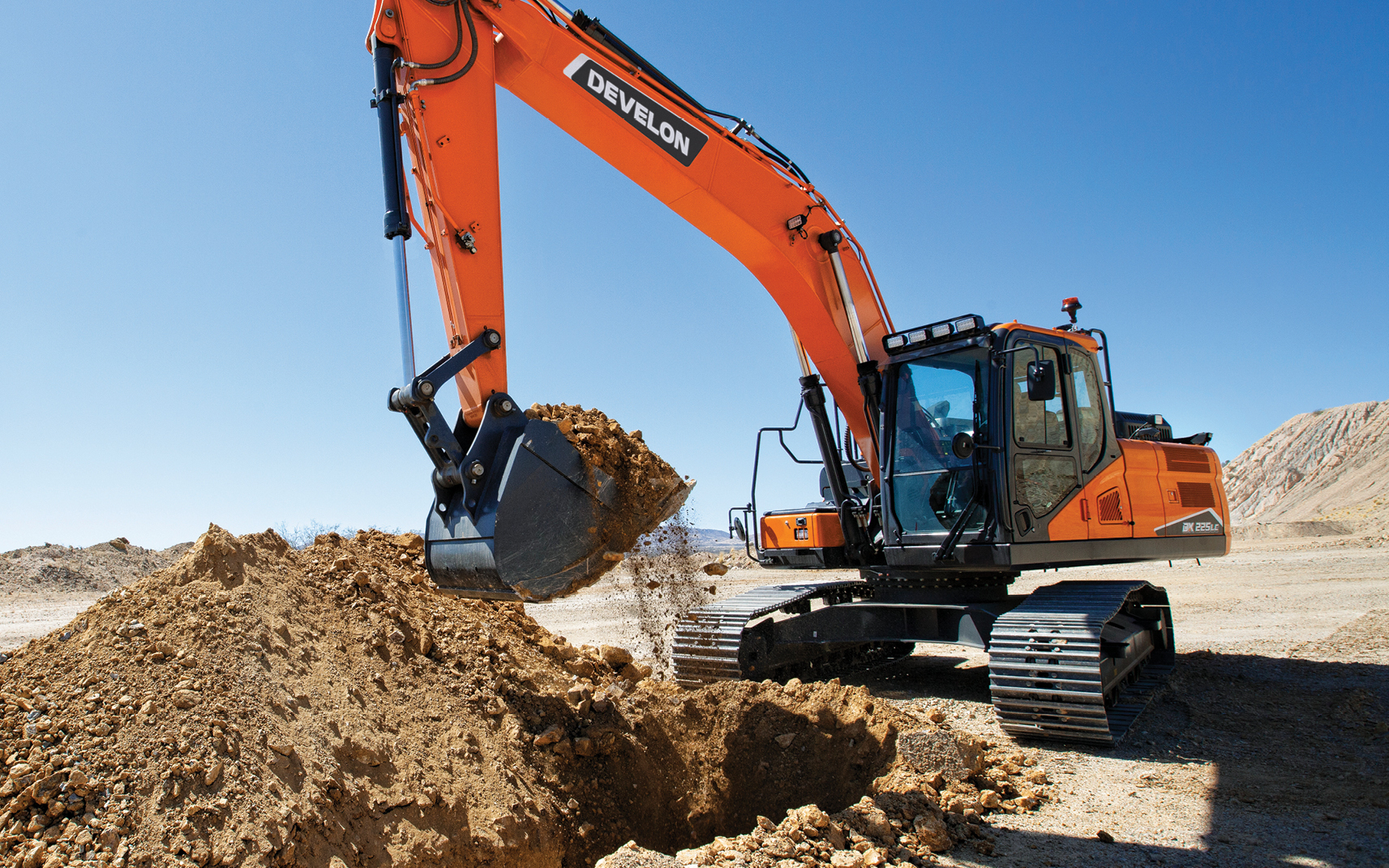 Equipment rentals are an economical way to add larger machines for your construction projects. Renting heavy equipment for big jobs can be a more cost-effective choice than buying, especially for short-term needs, like when you need an excavator in a specific size class.
Before proceeding with a rental, it's essential to consult your local dealer regarding your job site requirements. Your dealer can assist you in identifying the most suitable excavator size and arrange for its transportation to your job site.
Here are key questions to ask as you think about renting an excavator.
How Much Does It Cost to Rent an Excavator?
The cost to rent large or mini excavators will depend on a variety of factors, including:
Type and size of the excavator
Rental duration
Seasonal demand
Availability and location
Add-ons and attachments
Transportation needs
Market conditions
Insurance and maintenance
Your dealer can prepare an estimate for your excavator rental needs. This way, you'll know what to expect to pay before taking possession of the excavator. If you need to keep the excavator for an extended period, your dealer can furnish you with the updated rental costs.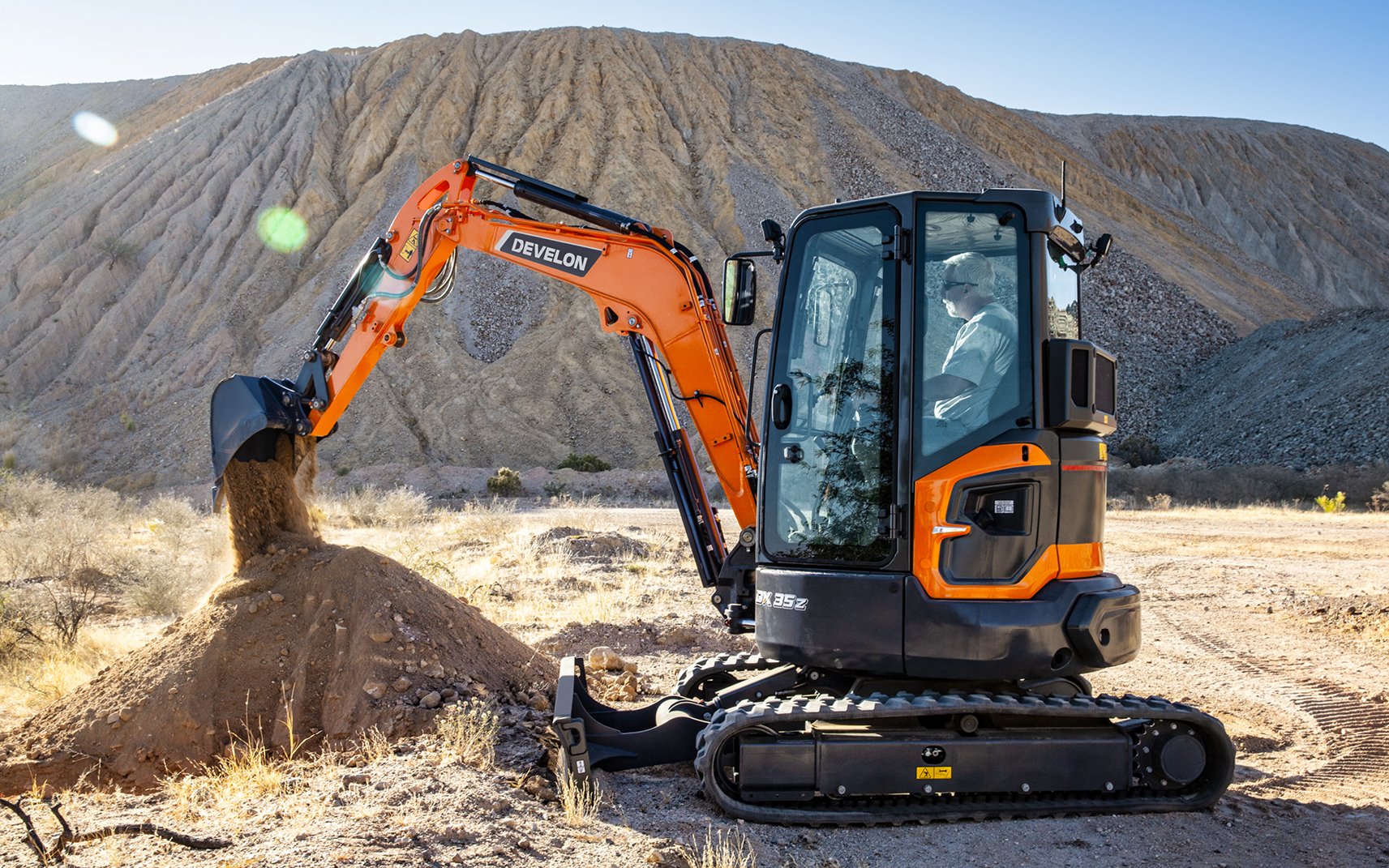 Where Can I Rent an Excavator?
Your local DEVELON equipment dealer is an excellent starting point for excavator rentals.
If you have prior experience working with your local dealer, your sales representative is likely familiar with your business and the nature of your work. They can assist you in navigating the decision-making process and guide you through the rental options.
Options to consider when renting an excavator include:
Conventional tail or reduced tail swing configuration
Operating weight
Horsepower
Standard or long arm
Auxiliary hydraulic flow
Dozer blade
Steel tracks or rubber track pads
If you're working in an area with restricted space but still need a large excavator, a reduced tail swing model is an ideal solution. An LCR model, like our DX140LCR-7 and DX235LCR-7 excavators, offers reduced tail swing for less overhang.
Additionally, zero tail swing mini excavators like the DX35Z-7 are ideal for working in space-restricted areas.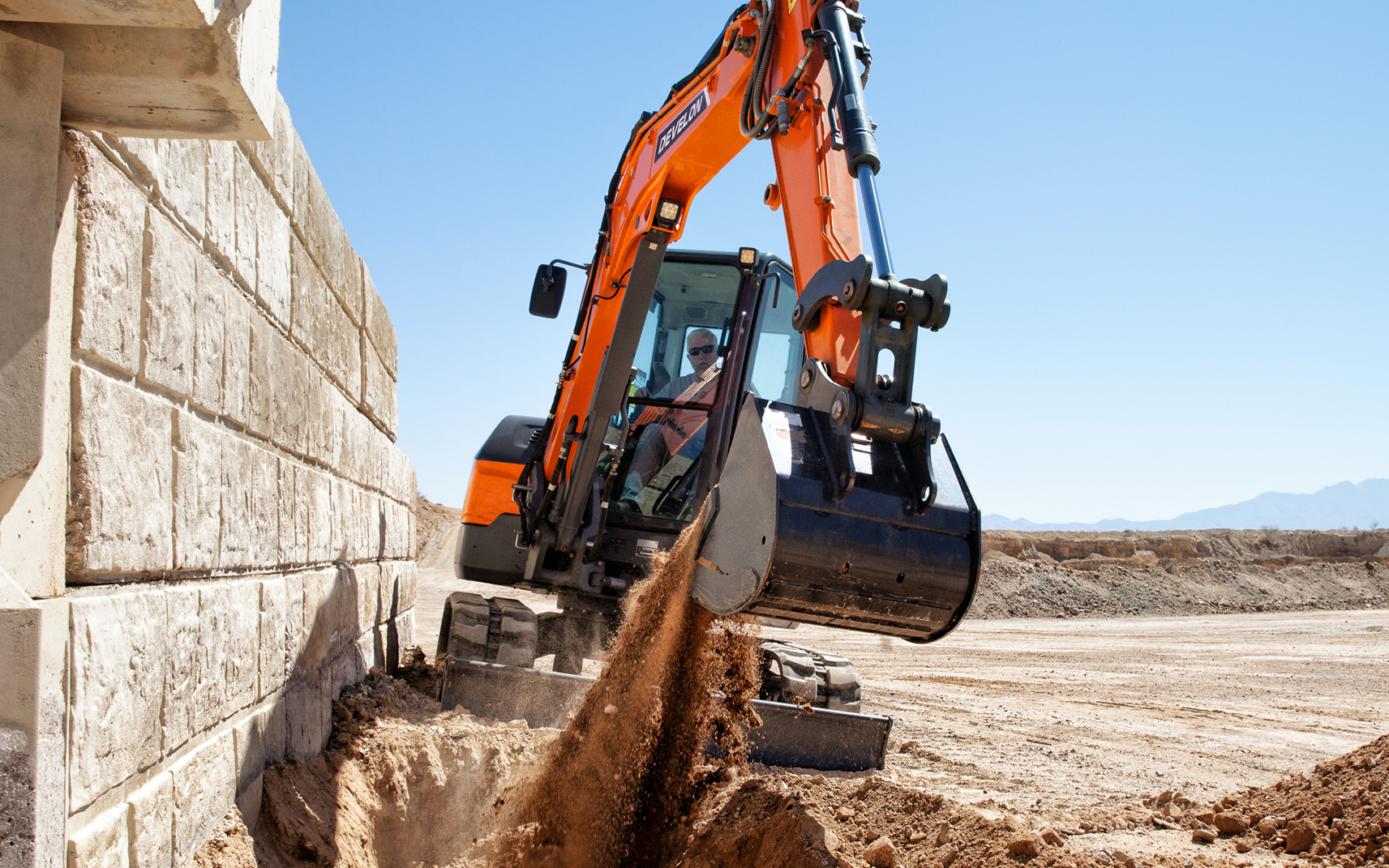 How Do I Rent an Excavator?
Your local DEVELON dealer likely has a rental fleet with a variety of excavator sizes to meet your needs.
Prior experience is not required to rent an excavator. You can contact the rental department directly or communicate through your sales representative to inquire about the dealer's inventory. The person assisting you will explain the rental process and the associated fees.
Depending on your schedule and trailer setup, you can either pick up the excavator or have the dealer deliver it to your job site. If you choose delivery, it's a good idea to inspect the machine before starting your work.
While you're renting the excavator, your dealer can remotely monitor the machine with the DEVELON Fleet Management telematics system. This allows them to identify and potentially address any issues that may arise without the need for on-site intervention.
At the end of your rental, you can either return the excavator to the dealer or make arrangements for them to pick it up directly from your job site.
What Do I Need to Know About Equipment Insurance?
Before renting an excavator, be sure to understand the rental insurance and liability requirements. Ask if your dealer or the rental company provides insurance coverage for the excavator during the rental period. Most companies provide basic insurance to cover damage or theft of the excavator. However, the extent of the coverage may vary, so it's essential to review the terms and conditions of the insurance policy.
It's also important to understand the terms and conditions regarding liability for any damages that may occur while using the equipment. Your construction or business liability insurance also covers the use of rented equipment like excavators. This type of insurance protects you from third-party claims for property damage or bodily injury that may occur while operating the excavator.
Ask about damage waivers. Your dealer or a rental company may offer damage waivers or "Loss Damage Waiver" options to provide additional protection against equipment damage. The waivers may require an additional fee but can limit your financial responsibility in case of accidental damage to the excavator.
Last, be sure your employees have the necessary skills to operate the excavator safely. Your dealer or the local rental company can provide you with instructions for properly operating the equipment. Additionally, some rental companies may provide operator training materials in print or online.
By considering these factors when renting an excavator, you can make an informed decision that aligns with your project's requirements.
Visit our excavator lineup for more information about the models available. Find a dealer in your area who can help you with an excavator rental.
Be sure your employees have the necessary skills to operate the excavator safely. Your dealer or the local rental company can provide you with instructions for properly operating the equipment."