DEVELON has further refined its Concept-X autonomous equipment platform and advanced the system's offering with its latest version — Concept-X2.
The newest iteration offers fully autonomous construction equipment and technologies designed to make jobsites safer and operators more productive.
Let's learn what's new with the "2" in Concept-X2.
Expanded Autonomous Construction Equipment Lineup
Perhaps you attended CONEXPO-CON/AGG 2023 in Las Vegas and had an opportunity to visit the DEVELON booth. The newest versions of DEVELON Concept-X2 construction equipment were featured — a dozer and an updated crawler excavator.
DEVELON expanded its autonomous construction equipment lineup from the initial launch in 2019 to include a DD100-CX dozer, complementing the excavator, wheel loader and articulated dump truck offering. The latest iteration of autonomous equipment demonstrates a movement toward commercialization of the system in the next three to five years.
A noticeable difference from the first iteration of the autonomous heavy equipment is the cabless design of the DD100-CX dozer and the DX225-CX crawler excavator.
Thomas Lee, director of product management at DEVELON, says the idea of autonomous equipment is to mimic the way an operator would use the machines on a construction jobsite.
"The ideal jobsite for Concept-X2 is one that doesn't require people to be there," he says. "And it should be somewhere that has a relatively routine job cycle."
With fewer people entering the skilled labor workforce in recent years, the idea of a Concept-X2 jobsite without operators is becoming more realistic than some people may have once thought.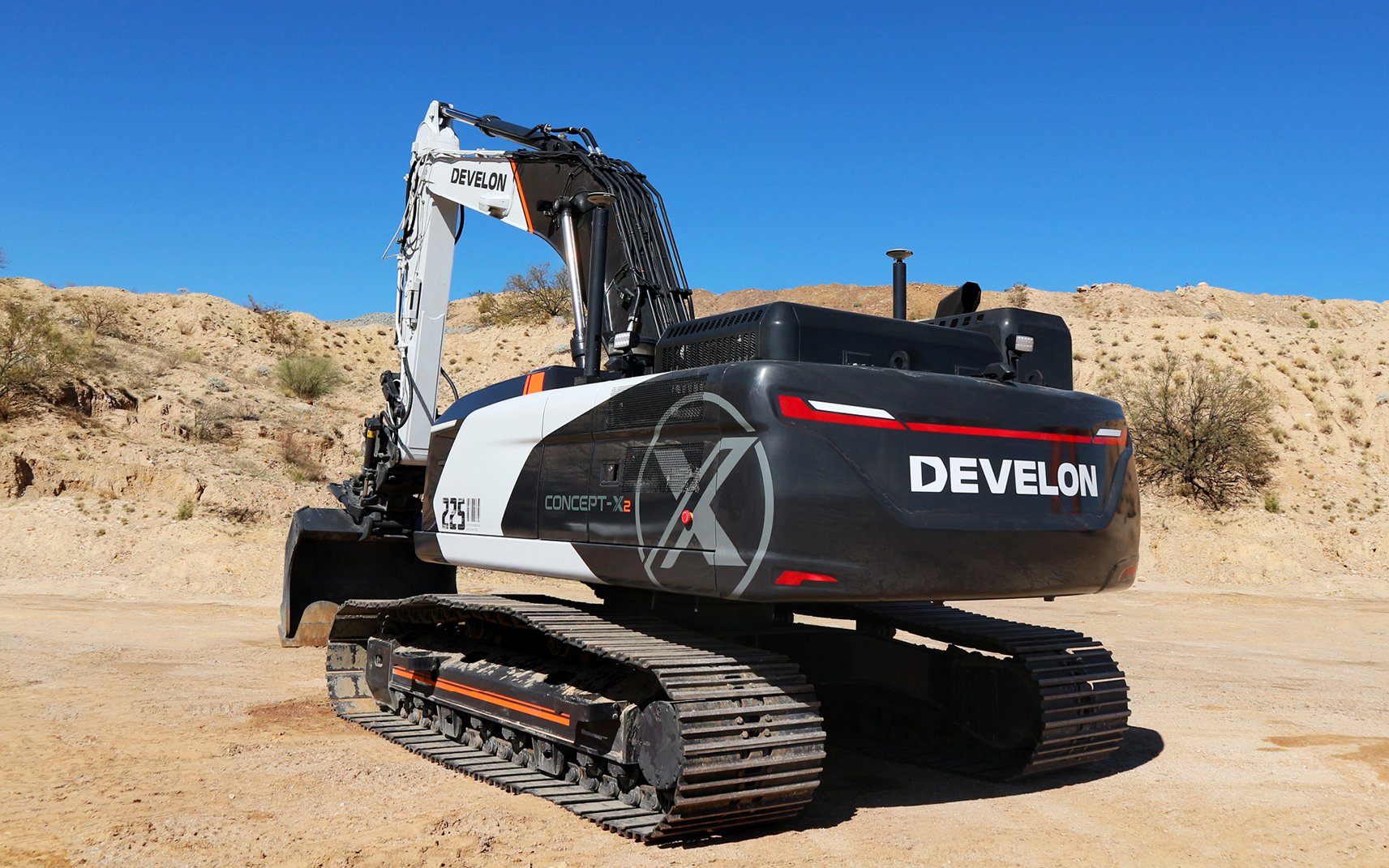 Added Jobsite Safety Features
Safety is a priority on construction jobsites, which is why it's so important for today's construction equipment to give operators every advantage when it comes to awareness.
Construction equipment can be configured with sophisticated technology that enhances operator visibility to minimize accidents at jobsites.
Concept-X2 comes with additional safety features designed to minimize risks for contractors. Here's an example.
"We added the emergency stop function in Concept-X2," says Lee. "This is also known as E-Stop safety technology.
"Whenever the machine detects either a person or a vehicle, it will stop by itself. Even when there is no obstacle, it will wait for three seconds and then perform its job."
Popular Excavator Tiltrotator Added
One of the biggest trends in construction equipment today is the increased use of tiltrotators for excavators.
Due to their popularity, DEVELON incorporated the new technology into the Concept-X2 update.
Tiltrotator accessories can increase jobsite efficiency for contractors. Lee shares how the popular technology works with Concept-X2.
"We send a scanned image of the jobsite terrain to the machine using the XiteCloud platform," he says. "The machine knows what it needs to cut and fill, and it can perform automated 3D grading.
"With the new tiltrotator function in Concept-X2, the excavator doesn't have to move to position itself. The excavator can stay in one place and have the bucket positioned at an angle. That increases efficiency and productivity."
More Concept-X2 Updates
Additional updates to the Concept-X2 offering include the following:
Autonomous driving and blade control based on global navigation satellite system (GNSS)
Enhanced machine-learning-based auto digging and loading
Integrated work planning algorithm applied
Advanced XiteCloud solutions
You will eventually be able to manage a variety of construction jobsite tasks with the XiteCloud solution offered by DEVELON. These tasks may include surveys, terrain analysis, machine purchase, equipment operation and construction management.
The system can manage multiple construction projects on a single platform, reduce construction costs and save time while increasing work accuracy.
The advanced automation technology is commercializing in phases. You can digitize your construction site with innovative management, field and safety solutions.
The new XiteCloud system covers many aspects of construction management. These include:
XiteFleet: Provides real-time fleet monitoring with location tracking and operation monitoring.
XiteAuto: Commercializes current and future technology, such as 3D machine guidance to automation.
XiteAnalyst: Enhances jobsite productivity as a digital twin-based earthwork analysis/management solution.
XiteSafety: Offers safety management, including preventing collisions between construction equipment and workers.
With the new tiltrotator function in Concept-X2, the excavator doesn't have to move to position itself. The excavator can stay in one place and have the bucket positioned at an angle. That increases efficiency and productivity."