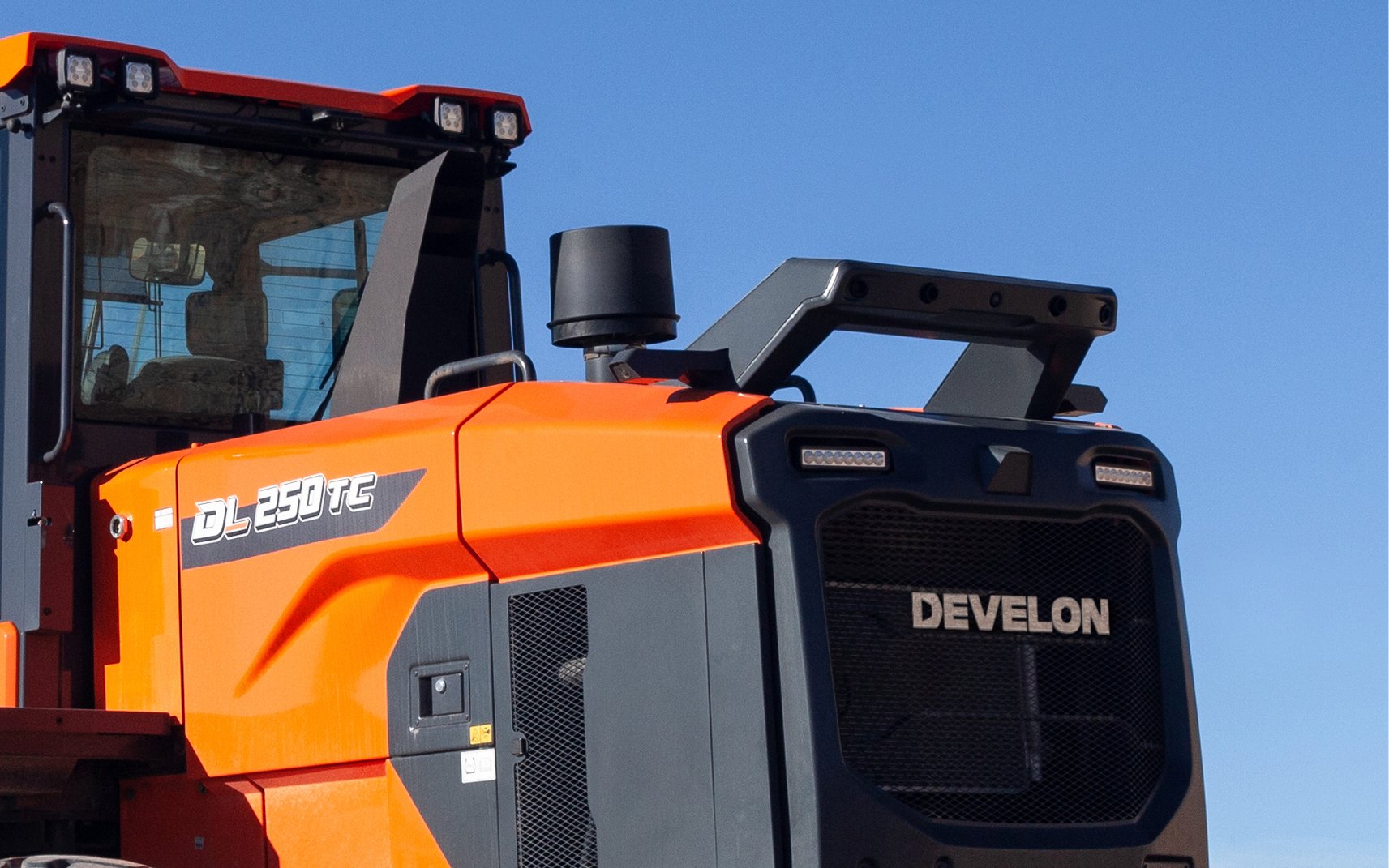 (SUWANEE, Ga. – June 2023) DEVELON is introducing new innovative technologies on its next-generation -7 Series wheel loaders in North America. Technologies previewed during CONEXPO-CON/AGG 2023 help improve operator productivity, visibility and safety.
Technologies including the Transparent Bucket, around view monitor (AVM) camera system and object detection are offered as standard on all next-generation machines, from the DL200-7 through the DL580-7, helping operators get the job done in the most challenging conditions today and in the future.
"DEVELON is the only construction equipment manufacturer in the industry with the Transparent Bucket technology," says Bill Zak, wheel loader product manager. "When it's paired with the AVM, our 2023 -7 Series wheel loaders will help operators and owners be more productive while increasing their visibility and safety."
Exclusive Transparent Bucket Technology
The exclusive Transparent Bucket technology is an innovative construction equipment technology that helps minimize blind spots for wheel loader operators when the bucket is raised.
"The Transparent Bucket technology offers a supplemental view from a monitor inside the wheel loader cab," says Zak. "The system has two cameras with protective guarding, one mounted high on the cab and one mounted low on the axle on the front of the machine. The system's processor automatically adjusts the camera inputs into a single image that makes the bucket appear transparent on an in-cab monitor."
With an unobstructed view in front of the wheel loader bucket, operators can see objects such as large rocks, construction materials, obstacles and even people in front of the machine — objects that would otherwise be obstructed from view by the bucket. Since operators can "see through" the wheel loader bucket, it helps them efficiently dig into and precisely place material where it needs to go. This technology helps maximize productivity on the most challenging jobsites.
According to a report published in March 2023 by the Center for Construction Research and Training, 17% of fatal injuries in construction from 2011 to 2021 were "struck by" fatalities. This type of fatality is defined as an "injury in which a person is struck by a vehicle, object, or equipment." New technology from DEVELON can potentially help reduce these fatalities with increased operator visibility to the jobsite.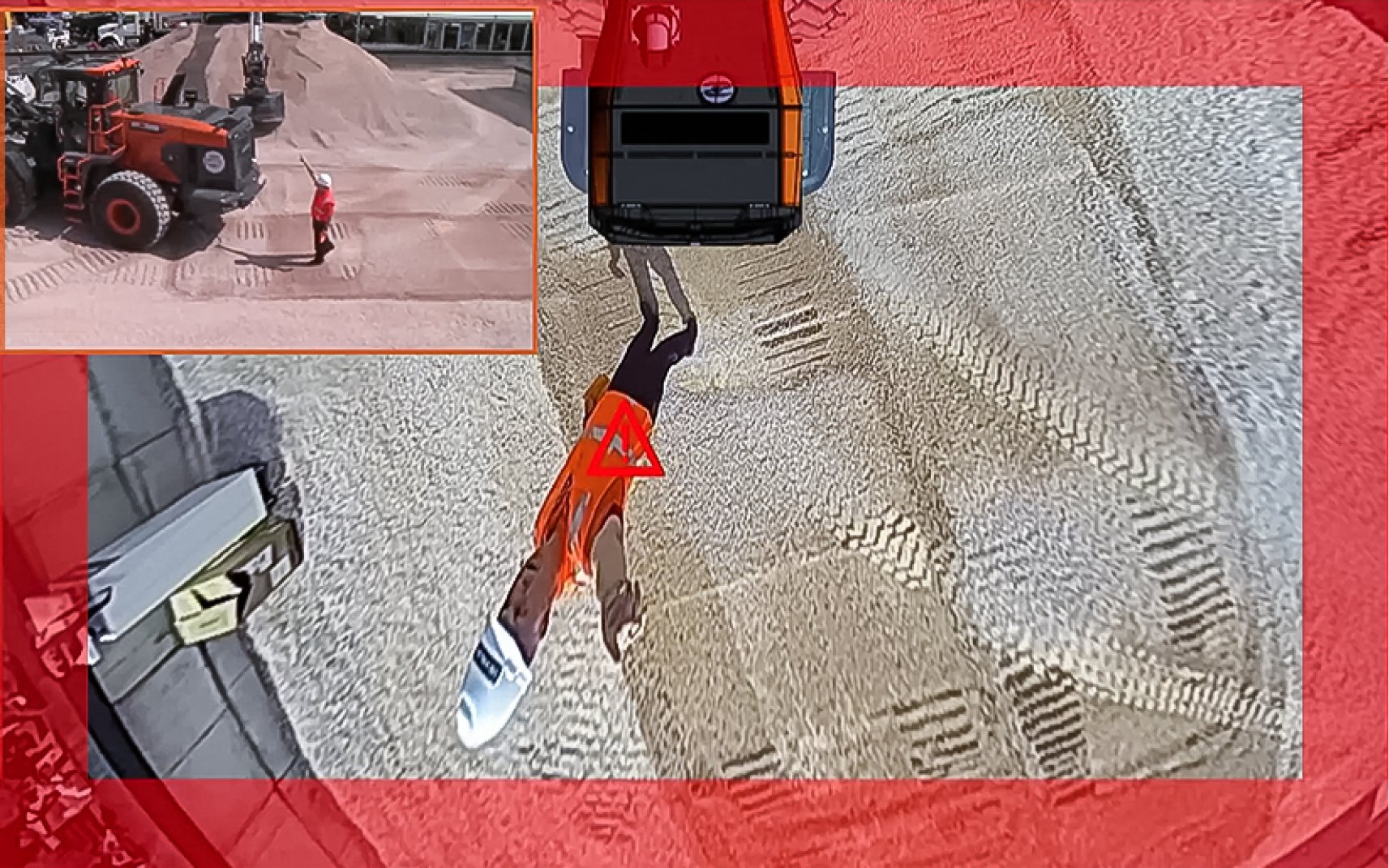 Around View Monitor Camera System
For additional visibility and safety on jobsites, DEVELON -7 Series wheel loaders have an AVM camera system. Three cameras and several sensors are mounted on the rear of the wheel loader, giving operators up to 270 degrees of enhanced visibility.
"If there's an object eight to 12 feet behind the machine, a flashing green caution box will appear, notifying the wheel loader operator," says Zak. "A yellow caution box will show up if the object is four to eight feet and a red triangle and red border notification if the object is closer than four feet."
When wheel loader operators combine the AVM camera system, floor-to-ceiling side cab windows and the Transparent Bucket technology, they have nearly 360 degrees of visibility. This level of visibility can help reduce the possibility of the operator hitting another object on a busy jobsite.
Other Smart Technologies
The 2023 -7 Series wheel loaders are designed with other smart technology features that owners and operators can use to make meaningful improvements to the productivity of their operations.
DEVELON Fleet Management telematics system makes it easy for owners to monitor their fleet and manage maintenance to reduce operating costs. Using a smartphone, tablet or computer, owners can check machine location, operating hours, fuel usage, engine idle versus work time, error codes, engine and hydraulic oil temperature and various other data points.
Situation Awareness Technology (SAT) automatically monitors the machine's activity and adjusts the wheel loader engine's output to match real-time requirements of the hydraulic system and drivetrain.
Smart Guidance System analyzes operator driving habits and provides tips during operation on the Smart Touch display to improve their efficiency.
Load Isolation System (LIS) improves wheel loader stability while moving, which can reduce cycle times, increase productivity and boost fuel efficiency.
Smart Load weighing system tells the operator the weight of material in the bucket. All menus and settings are integrated into the Smart Touch screen.
In addition to smart technologies, the 2023 -7 Series have cabs equipped with comfort features, increased bucket capacities and new fuel-saving technologies.