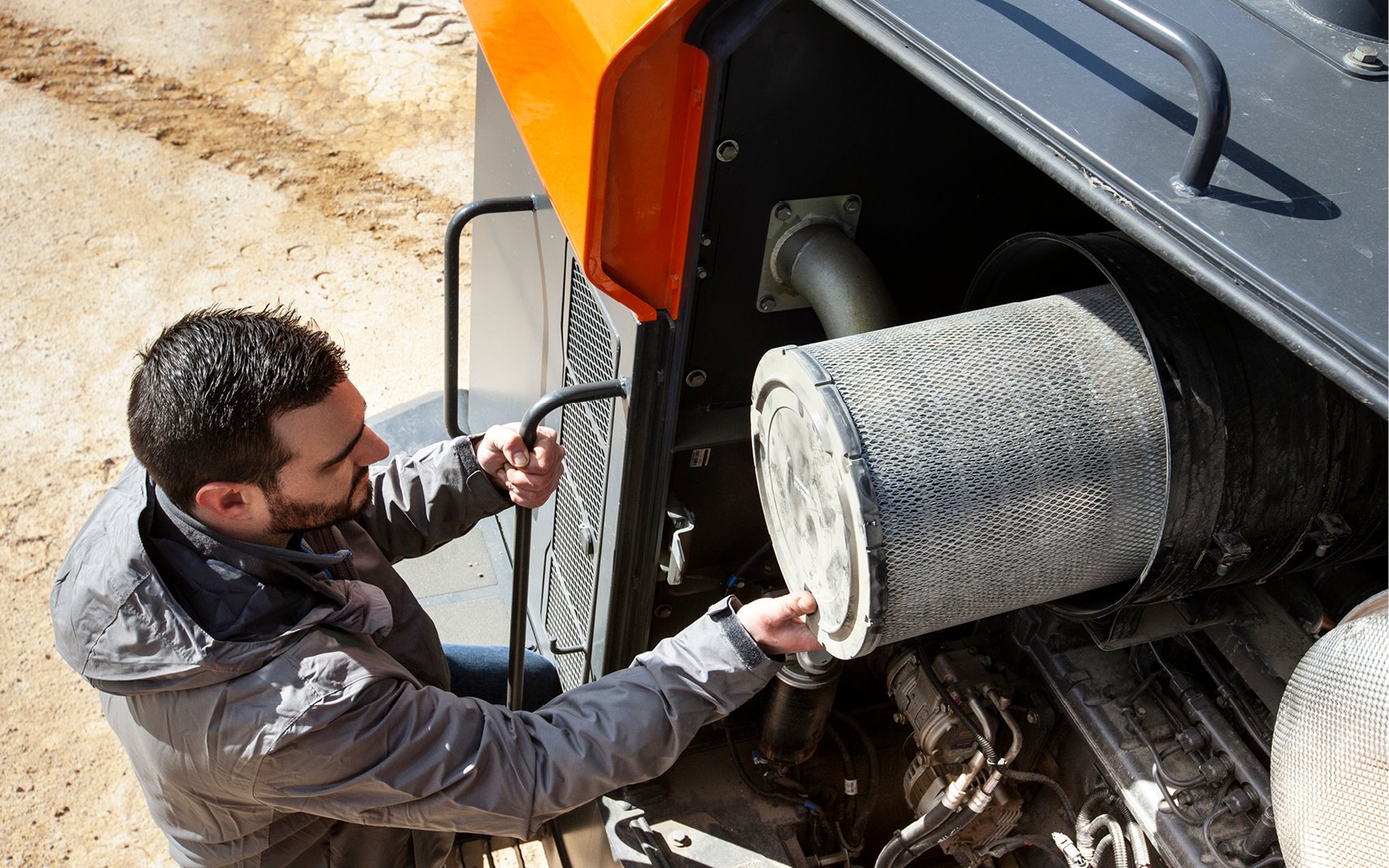 Has your equipment been idle for an extended period? Ready to prep your machines for the upcoming construction season? The right steps can ensure that your heavy equipment is ready to move dirt this spring.
While no one enjoys flipping through hundreds of pages or diving into technical details, it's always a good idea to start with your Operation and Maintenance Manual. If it's lost or you're not sure where you saved the email with the PDF version — no worries. You can ask your local dealer for another electronic copy of the file.
Spend some time reviewing the section of your manual that talks about moving your equipment out of storage and getting it ready for work. Go over the section with your service technicians and your machine operators so everyone is on the same page when it comes to getting your heavy equipment prepped for work this spring.
Perform a Visual Inspection
A good first step when getting machines out of storage is a visual inspection of the equipment. Start at ground level and work your way around the machine. Look for issues beyond normal wear and tear.
Check the tires on your wheel loaders and wheel excavators for any tears, cracks or leaks. For tracked machines, like excavators and dozers, look for damaged links that may need to be replaced and pay close attention to the undercarriage.
"Don't forget to inspect the hydraulic lines running along an excavator's boom and arm," says Joel Escalante, senior product specialist at DEVELON.
"Be sure to note any damaged hydraulic lines that should be repaired or replaced. Also pay attention to the attachment connection, whether it's a pin-on or quick coupler, and look for any damage."
Move your way up the equipment. Closely inspect the cab, starting with the exterior and moving inward. Does the door close securely? Are any cab windows cracked or broken?
Once inside the cab, do you see any damage that may have gone unreported last fall? Check the seatbelt to make sure it's still working properly. Test the buttons and the machine's lighting system. Replace any burned-out bulbs.
Make a list of repairs and put together a schedule for making them, or contact your local dealer and make an appointment for a service technician to perform the repairs. Even better, consider a preventive maintenance plan for your construction equipment.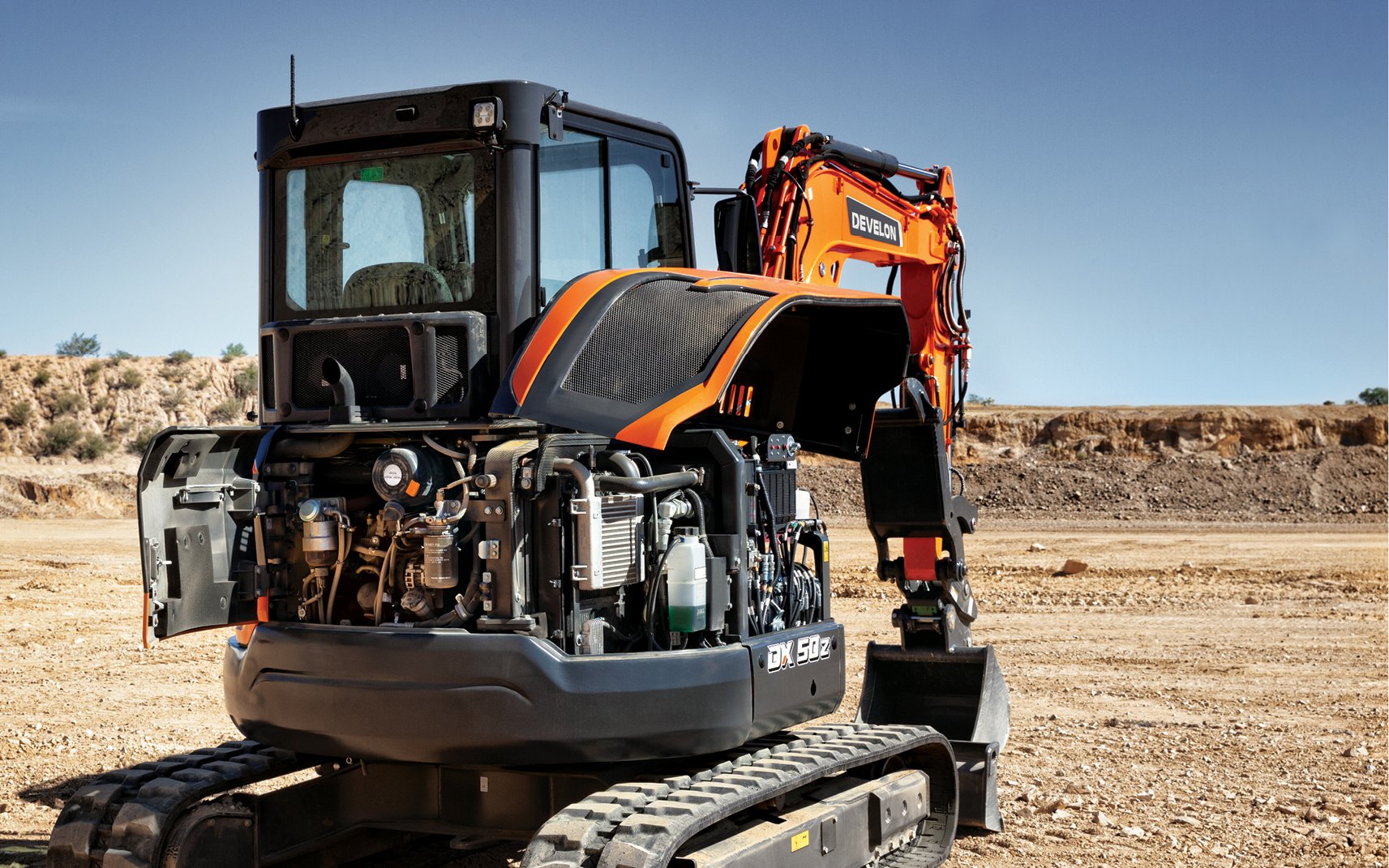 Open the Machine Panels
After a visual once-over of the exterior, open the machine's panels and look inside. Depending on where you store your machines, you may find some surprises like little critters who made their winter home inside the machines. Remove any rodents or debris from the compartments.
If you have a panel that is dented and doesn't close properly, or if you need to replace a panel, contact your local dealer to order the replacement parts.
"First impressions include your equipment," says Bill Zak, wheel loader product manager.
"How your equipment looks when it arrives at a jobsite says a lot about you and your company. Making simple repairs to panels or replacing them can go a long way toward impressing your customers. The same goes for repairing scratches or dents on the machines."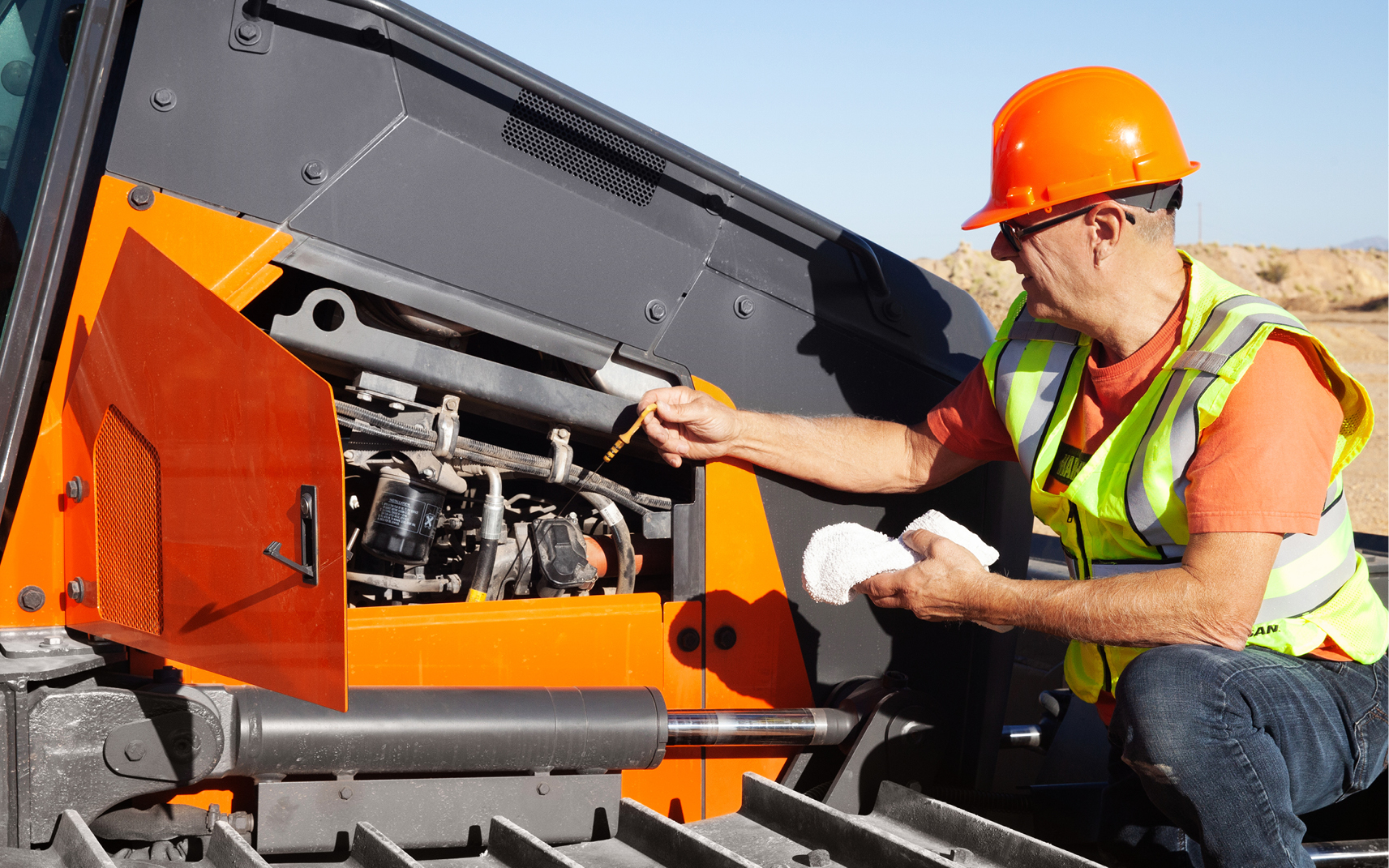 Check and Change Filters and Fluids
Now is a great time to check the dates and hours on your machine's filters. You may be someone who writes the date on the filter when it was last changed. Your machine's owner's manual has a list of recommended service intervals and when you should replace the filters.
Along with checking filters, it's recommended to follow your manual for checking fluid levels and changing the fluids according to the service intervals. You may be able to do this yourself or with help from your trusted mechanic. Your dealer's service department is your best friend when it comes to proper maintenance.
Before adding diesel exhaust fluid (DEF) to your equipment, confirm where it was stored. Fluctuating temperatures can negatively impact the fluid's purity and concentration. If in doubt, get a fresh container from your local dealer.
Don't wait to order the parts you'll need to get the equipment ready for spring work. Give yourself and your dealer plenty of time to get the right parts to you when you need them.
Need help with your fleet maintenance? Check out our new Smart X-Care service for 24/7 remote equipment monitoring.
Do Some Spring Cleaning
Now is an ideal time to clean your machine before you move it to your first jobsite. If you cleaned the machine last fall, there may be very little to do this spring. If you ran out of time and did the bare minimum, be sure to make up for it now. Use a pressure washer to clean the exterior of the equipment. Remove built-up dirt from tracked machines.
"A dozer's tracks are the hard-working part of the machine," says Moo Young Park, engineering manager. "Not only should you keep the undercarriage clean and free of any debris, but you want to make sure the tracks are maintained properly and the tension is set correctly. We make it easy to do this step for our DD100 dozer."
Don't forget about the cab. Remove dirt and debris from the cab floor. Take the mats out of the cab and clean them. Wipe down the surfaces and clean the windows. Note any decals that may need to be replaced. These are commonly on cab windows or located on panels inside the machine. Your machine may also be equipped with an operator quick start guide.
Some hard work and preparation now may save you headaches and downtime during the working season. Don't forget to work with your local trusted dealer for any parts and service needs. They are there to support you and want you to be successful this year and beyond.
We've made it even easier for you to prep your machines this spring. Download our free spring equipment maintenance checklist to get started.
Don't forget to inspect the hydraulic lines running along an excavator's boom and arm. Be sure to note any damaged hydraulic lines that should be repaired or replaced."