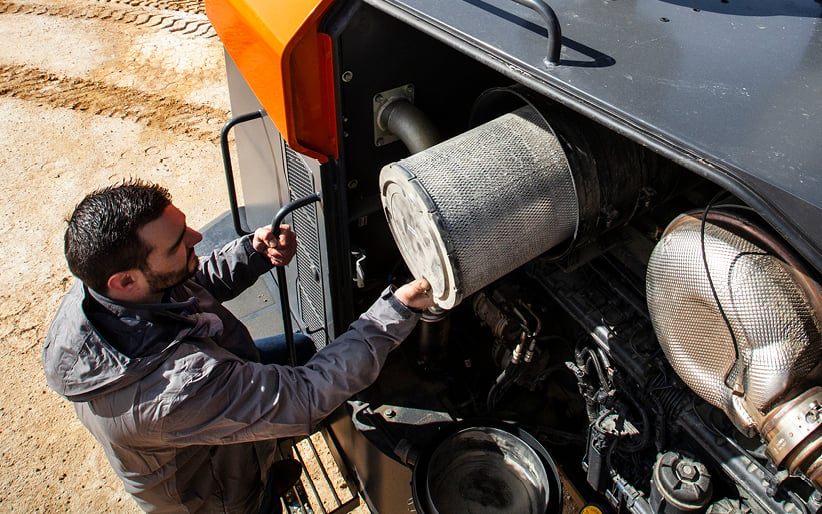 If you own heavy equipment, then you know that routine maintenance is critical to keeping it running smoothly. Whether that maintenance is a standard engine oil change or diving into the machine to fix the drive motor, you may be asking yourself, "Should I be the one doing this?"
It's a fair question to ask, and one that only an individual business can answer. We're here to give a rundown of some of the advantages your business can experience if you do decide to outsource your heavy equipment preventive maintenance.
When Does My Machine Need Maintenance?

To begin, review your machine's Operation and Maintenance Manual. A copy comes with each machine. If you've misplaced yours, ask your dealer for a replacement or an electronic copy. This can help you understand what maintenance to perform for your machines. The manual also provides a schedule for when the maintenance items are due.
Secondly, review the machines in your fleet. Which machines are used the most? Do they have any special needs you're already aware of? This information can help you evaluate which preventive maintenance plan works best for you. Hint: Your machine's telematics system can provide a wealth of information about usage. Check out DEVELON Fleet Management Telematics and see how you can better manage your fleet.

Preventive Maintenance

Your local dealer can offer support and resources if you choose to use them for your preventive maintenance. The goal of a preventive maintenance program is to identify issues before they cause machine downtime. You should ideally couple a preventive plan with your daily maintenance plan to help maximize the life and productivity of your equipment.
Successful dealers typically receive specific original equipment manufacturing (OEM) training for the brand of equipment they are selling. They can know — just from their trained eye — what to look for as they're checking the machine and can identify any issues that can impact the functionality of the machine later.
If you're just starting a relationship with a dealer, be clear about your schedule and maintenance needs. Most dealers can work with you to accommodate your calendar and preferred times for maintenance. Once a preventive maintenance program is established, working with the dealer and scheduling become easier. Whether it's excavator or wheel loader maintenance, they can service your equipment in your time of need.

Oil-Specific Maintenance

Another consideration when outsourcing maintenance is the environmental responsibilities. Environmental protection requirements should be followed by whoever is providing the maintenance.
Specifically, waste oil must be managed properly in accordance with local regulations. The same goes for diesel particulate filters (DPFs). The DPFs should be removed or replaced, and the ash should be properly disposed of.
Since dealers work on machines daily, they have the know-how and processes in place to make sure the waste is taken care of. Depending on what your fleet looks like, it's probably easier for the dealer to handle it. If scheduled correctly, a trained technician can change fluids in multiple machines on the same day.

Third-Party Maintenance

If you want another option, there are third-party companies that just service heavy equipment. Their entire business model is to service customers that don't have a technician and have chosen to outsource.
One reason to consider this method is if you have multiple brands of equipment in your fleet. It's also an option if you are located far away from the dealer. This process will be very similar to having a dealer service your machine for you. It will just be a specialized business that's doing that on behalf of your fleet.
For additional assistance, reach out to your nearest DEVELON dealer.